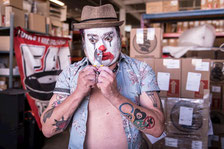 Cokie The Clown, Fat Mike's alter ego, has completed his first full-length album, You're Welcome, and it will be available on April 26th!
The nearly year-long recording sessions are a glimpse into what lies beneath the madness and genius of Fat Mike.
Here he lays open his deepest regrets, fears, and experiences in a raw and thoughtful manner. It is not a happy record; however, today is the day that you can listen to perhaps the most uplifting song on the album, "Punk Rock Saved My Life." YOU'RE WELCOME! Because after this track, it is all going downhill.

Comprised of ten tracks, the album features a who's who of A-list talent that assisted him throughout the nearly year-long recording sessions. Danny Lohner (Nine Inch Nails, A Perfect Circle) produced You're Welcome; Blink-182's Travis Barker played drums on the album; even Dizzy Reed of Guns N' Roses contributed keyboards! Probably France's best kept musical secret is Baz, who Fat Mike collaborated heavily with on You're Welcome. Cover art painted by the talented Natalia Fabia.
You're Welcome track listing:
1. Bathtub
2. Fair Leather Friends
3. The Queen Is Dead
4. Swing and a Miss
5. Down with the Ship
6. Negative Reel
7. That Time I Killed My Mom
8. Fuck You All
9. Pre Arraigned Marriage
10. Punk Rock Saved My Life
"I peeled my fuckin' skin off for this record."  Leave it to Fat Mike to not mince words. The mouthpiece for erstwhile skate-punk troupe NOFX has never bitten his tongue, for better or worse. (There's even rumors of an official NOFX stage banter album in the works, but that's a bio for another day.) But back in 2010, Fat Mike surprised even his most ardent fans with the debut live performance by his grimy alter ego, Cokie The Clown, at a South By Southwest showcase that ended up landing him on TMZ. We'll let you Google the sordid details, but suffice it to say, it involved a series of brutally heartbreaking true stories from Mike's past and a sketchy bottle of tequila. (Also, there was some juggling.)

Now here we are, nine years after that incredibly tense, occasionally hilarious and extremely memorable evening, preparing—some might even say bracing—for the release of You're Welcome, the debut album by Cokie The Clown, a 10-song, 38-minute look inside the darkest depths of Michael Burkett's psyche. From the second the needle drops on opening track "Bathtub," you'll immediately discover the album isn't meant for the faint of heart. In that song, Fat Mike candidly discusses waking up in the middle of the night to find his wife overdosed and drowning in a hotel room bathtub. "I wanted people to feel the awkwardness and the horribleness of it," he says. "I sang that song in my kitchen at 3 a.m., super-drunk. It's not rehearsed or recorded in a studio. It's heartbreaking."
Burkett didn't record You're Welcome alone, however; he enlisted a who's who of A-list talent to assist him throughout the nearly year-long recording sessions. Danny Lohner (Nine Inch Nails, A Perfect Circle) produced You're Welcome; Blink-182's Travis Barker played drums on the album; even Dizzy Reed of Guns N' Roses contributed keyboards. But Burkett's biggest collaborator on You're Welcome might be the most little-known: Baz. "He's the only person I've ever co-written with," Burkett says of the French musician and composer who first caught the singer's eye in 2015 when he released a symphonic version of NOFX's classic anthem "The Decline." "He created 'The Decline' symphony on his own. I cried when I watched it. I couldn't believe someone did that. So I ended up flying him out to the U.S. to work with me. He plays every instrument—he even has a degree in jazz drumming."

Together, Burkett and Baz collaborated to make music that sounded nothing like anything NOFX had created in their nearly four-decade career—well, except for one part. You're Welcome's closing track, "Punk Rock Saved My Life," is the closest the album ever gets to sounding like NOFX (and that includes a radically re-worked version of NOFX's "Down With The Ship"). The track is a stark look at how Burkett's parents failed him, and how his bandmates are his true family. The song—and the album as a whole—then ends with a delicate reprise of the classic melody from "The Decline." Burkett says that wasn't planned. "That was the perfect moment," he says. "We realized 'Punk Rock Saved My Life' and 'The Decline' had the same chords. It was so perfect, we both started crying. That was the last song we finished."

The oldest song on You're Welcome, the truly beautiful piano ballad "That Time I Killed My Mom," dates back to that SXSW performance, and is, as Burkett reiterates, a 100 percent true story, just like everything else on the record. Musically, You're Welcome is compelling and dynamic, with haunting vocal melodies laid atop string sections and elaborate piano parts. Lyrically, however, You're Welcome is designed to make listeners squirm in their seats. "I thought it was okay to write songs that would destroy some of my friendships," he comments. "That's how much the art meant to me."
Burkett is determined to speak his truth on You're Welcome, no matter how ugly it may get. "Swing And A Miss" tells the story of the time Burkett's old roommate killed himself—and how all the punks in the house ransacked his bedroom before his parents arrived the next day. "Pre-Arraigned Marriage" takes a hard look at Burkett's two major romantic relationships, warts and all. And "Fuck You All"—well, that one's sorta self-explanatory, ain't it? Really, the biggest compliment you can pay to You're Welcome is that it's impossible to put on as background music—once you press "play," you have to pay attention to it.

"It's a weird fucking record. People will not like it," Burkett admits. "Some people just can't listen to it. That's fine. These stories are all horrible parts of my life. But I have no shame and no pride. It's the way to live. Once you lose shame and pride, you're fucking free—and that's where I am right now. I gave it my all."

In other words: You're welcome.