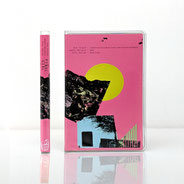 New Feminist Punk/Post-Hardcore Split by Dad Thighs, Great Weights, and Stay Inside
Old Press Records is proud to announce the release of The Final Girl, a new split release between three bands out to challenge misogyny and abuse in screamo/post-hardcore.
Drawn together over the internet via their mutual respect and admiration for one another, Stay Inside, Great Weights, and Dad Thighs knew a joint effort was inevitable. The Final Girl is a sonic passage through the members' pasts, promoting resilience and resistance in the face of their genre's violent predecessors. Dissonant chords and compelling vocals call out the objectification and abuse of women in the music industry, twisting the final nail in the coffin of the early 2000's post-hardcore scene.  Although brief, the album is concise and brutal; condemning and tearing down the walls surrounding the music that transformed them as young fans.