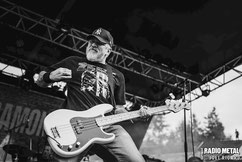 What we love during our youth often loses its power as we age. It's understandable and expected, especially if the thing you loved—making music—was also your job for a long time. 
CJ Ramone made his name as a member of the greatest punk band of all time, and nearly 25 years after that experience, it'd be understandable if Ramone now spent his days resting on his legacy and tsk-tsking the state of punk rock. But The Holy Spell…, Ramone's new solo album out May 10 on Fat Wreck Chords, joyfully celebrates his undiminished love of music. It's right there in the title.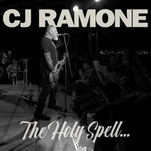 "I never lost that magical feeling that you get from music, and that's where the title came in," he says. "The bands that I listened to when I was young that I really enjoyed, I can still put that music on now, and it still has the same magic for me."
Full of fist-pumping punk—but not limited to it—The Holy Spell… pays tribute to that magic in a variety of ways. Notably, a pair of sly covers hearken back to Ramone's childhood: He would hear Dave Edmunds' "Crawling from the Wreckage" on the portable radio he played in bed at night, and Webb Pierce's 1953 hit "There Stands the Glass" recalls his parents' love for classic country.

Those songs get revitalized here, which is also how Ramone, guitarist Dan Root, multi-instrumentalist Nate Sander, and drummer Pete Sosa, sound on The Holy Spell… With producer Paul Miner (Death By Stereo, New Found Glory, H20, Adolescents) again at the helm, The Holy Spell… is a surprisingly nuanced release from a punk lifer.

The album's first half, kicked off by "One High One Low," continues the hook-laden pop punk that fans expect from the Ramone name. But check out the country-tinged "Hands of Mine" around the halfway point, the SoCal pop bubbling up through "Movin' On" and "Postcard from Heaven," and the feeling of closer "Rock On." A farewell to Ramone's longtime collaborator and friend Steve Soto of the Adolescents, it's a fist-in-the-air tribute that says "rock on" without a trace of irony.

"Steve really has a lot to do with where I am now, and every record, Steve was right there with me," Ramone says. "He is completely irreplaceable. I owe Steve a lot. It's definitely strange going on without him, but even though he's not on the record, a lot of what we learned from Steve is still on the record."

The Holy Spell… is Ramone's first album since 2017's American Beauty, which PunkNews hailed for "keeping the Ramones sound fresh," while AllMusic raved that Ramone is "not just copying the band's old glories, but giving their legacy a fresh dose of energy and a different perspective."

"Blue Skies," is the first single off CJ's new album, The Holy Spell...