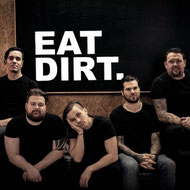 London punk crew EAT DIRT. have revealed the video for new single 'Make Peace', the latest track taken from their forthcoming debut album Death Is Death released 3rd June 2019 on Bearded Punk Records.

Commenting on the song, front man Ben Mills says: "Our song 'Make Peace' is about not allowing yourself to give up on growing and evolving as a person. It's a rallying call to make a difference in your life and not stagnate, and become a bigot. Too many times people get stuck in their ways and won't see the world from the other side of the coin. This song is about becoming the best version of yourself and not dying emotionally and intellectually."
There's no elaborate story surrounding EAT DIRT. What you see if what you get. They're just a bunch of musicians who needed a place, and head space, to get creative, away from the mess of life in modern Britain—this band is an outlet for frustration, anger, and a rising tide of disenfranchisement that's sweeping the country.
Formed in 2015, they've supported Pears, A Wilhelm Scream, The Filaments, Sheer Terror and Death by Stereo, and have fast been making a name for themselves on the UK underground punk scene with their high-energy live shows and no bullsh*t approach.