Die Antikörper Sessions sind Teil der monatlichen Sendung Antikörper auf ByteFM - jeden 4. Freitag um 23 Uhr: (Live Stream: https://www.byte.fm).
Alle Songs der Antikörper Sessions sind unveröffentlicht und exklusiv für Antikörper. Die Songs der Antikörper Sessions findest du als Stream auf der YouTube-, Soundcloud Seite sowie als Free Download und Stream auf der Bandcamp Seite von Antikörper!
Darüber hinaus wird Alfred Hilsberg im November 2019 die erste von insgesamt vier geplanten The Antikörper Sessions als Do-LP/Do-CD Compilation auf dem legendären ZickZack Records Label veröffentlichen!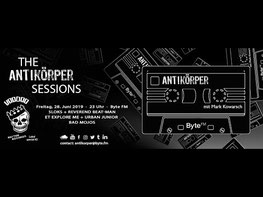 Antikörper 28. Juni 2019  23:00 (CET)  ByteFM
VOODOO RHYTHM RECORDS Label Special
The Antikörper Sessions: SLOKS (IT) + REVEREND BEAT-MAN (CH) + URBAN JUNIOR (CH) + BAD MOJOS (CH) + ET EXPLORE ME (NL)
Für die Antikörper Sendung hat Moderator Mark Kowarsch fünf besondere Bands zu den Antikörper Sessions eingeladen, denn heute gibt es ein Voodoo Rhythm Records Label Special. Label-Chef Reverend Beat-Man, der schon zum zweiten Mal mit einer Antikörper Session in einer Antikörper Sendung zu Gast ist, bringt vier weitere Voodoo Rhythm Records Künstler mit.
Freut euch auf exklusive und wie immer natürlich unveröffentlichte Songs von Sloks (Italien), ET Explore Me (Niederlande), Bad Mojos (Schweiz) und auf die beiden besten One-Man-Bands überhaupt: Urban Junior und Reverend Beat-Man.
Wer das hier verpasst dem ist wirklich nicht mehr zu helfen.
Primitive Blues Trash Rock'n'Roll Sixties-Punk-Rock Possessed By Satan Music.
Noisy Loud Raw'n'Wild One-Riff No-Hit Trip-Out Distorted Garage-Fuzz At It's Best.
Und nein, es stimmt alles mit eurem Radio und Lautsprechern - das soll so klingen!
Wie sagt schon das Bad Mojos Presseinfo so treffend: "Unfortunately it is far away from radio capability and it hurts while listen very much"!
Noch Fragen?
Zu den Bands: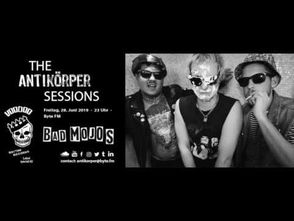 BAD MOJOS formed in lovely Bern Switzerland per SMS in 2015, this is 185% Fist in Your Face Pure Punk Rock, no serious Arty Farty Stubborn Trance in the Pants Oldies Bullshit, this is Punk with No Borders, they say their influences are GG Allin and Mahatma Ghandi and they adore the Guy that will shoot Bono Vox, for the Recordings we sent them to the South of France into the hands of Lo Spider of Swamp Land Studios and they came back with the Rawest Punk Record on the marked these days.
Bern is as you think not at all a place for underground music, its a lovely beautiful very historic tourist town, the government of Switzerland and all the Big Banks are here.. they have a lot of money and a burger costs 12bucks .. anyway there is the Anto pole to that and its the Underground Movement that started in the mid 70's and is strong until today with a Huge Squat in middle of town and probably the most crazy and most underrated bands formed in Bern (The Jackets, Grauzone, the Monsters, Lightning Beat-Man etc)
we are proud to release their first full length album, after some 7"s on No Front Teeth Records (UK) and Kink Records (DE) they do and did a lot of shows in Europe already, Germany Holland Switzerland etc.

BAD MOJOS are:
JEAN OF DEATH - Bass, Backing Vocals
JULIO BLANCO - Drums, Vocals
SAINT MARTIN - Guitar, Backing Vocals
https://www.voodoorhythm.com/artists/138-artists/bad-mojos/253-bad-mojos.html
https://www.facebook.com/pg/badmojos/
Weitere Sessions der Sendung mit
E.T. EXPLORE ME
Far Out Mind Expanding Psychedelic Punk from Haarlem in the Netherlands whom Squeeze you into a Organ grinding Fuzz Overdose Fest and Fly you to unknown dimensions Underground heroes of Haarlemtown in the Netherlands – saving the sewers of garage rock from the same old riff rock 15 years of distorted organ fuzz stripped down snare bare essence boogie thump of a bassline pumped out of mangled monster of an amp.
From the gutted churches of the Spanish hillside to the cigarette stench beer belch glorious gutterstreet rock n roll holes of Holland, Germany and France, E.T. EXPLORE ME has been leaving beer soaked, sweat stained smiling and stinking rock n roll fans begging for more since 2002. Finally deciding to get their shit together and make a full album, E.T. EXPLORE ME delivers on wax exactly what they do live. Full on FUZZED out Freaks unleashed. You wanna party, you wanna dig deep into the trenches of treble and bass, you wanna – oh I know you wanna just have a good time don't you! Don't you now! Of course you do fool. And E.T. EXPLORE ME has got the rocknroll sniffin glue to get you higher than daylight. So buy this album, see this band, pour a beer over your head and shake your ass, pump your fist and whatever you do, when you get home after the show, don't fall asleep in a puddle of your own piss.

E.T. EXPLORE ME are:
Joost- Guitar, Organ, Vocals
Jeroen K.- Drums , Percusion
Jeroen B. - Bassguitar
---
SLOKS
SLOKS is a Super Raw Power Ultra Primitive Dirty Suicide Destructive Garage Punk No-Wave Trashed out Rock'n'Roll combo, the Band formed in Turin Italy 2015. i saw them on a Local Alternative Festival in Italy for the first time, it was so Destructive and Suicidal Dangerous and amazing eye catching the same time, the Female Singer Ivy Claudy almost killed herself in her act strangling herself with the microphone cable and screamed as loud that she spit blood on the same time Buddy Fuzz wanked constantly his guitar overdosing totally distorting and endless feedback they were so Negative and creative the same time .. i t was defiantly way too much for the audience and most of them left immediately except Us ... and they had to open the festival anyways hahaha. Iwas blown away of the energy the band has and the complex personalities of the band members, so i send them To Lo Spider in Toulouse to his Swampland Studios (Destination Lonely, the Monsters, Lame, Roy and the Devils Motorcycle, the Lullies) to record a whole album for Voodoo Rhythm records, and here we go. This is one Nasty Piece of TRASH !!!!! Enjoy and book them if you wanna experience a Live Madness Massacre!!!!!

SLOKS are:
Ivy Claudy - Screaming and Snare
Peter Chopsticks - Drums
Buddy Fuzz - Strings
---
URBAN JUNIOR
URBAN JUNIOR learned to play the guitar at the age of nine from the preachers wife playin singin songs from swiss songwriter legend Mani Matter. Junior is from (Aarau/Zürich) Switzerland started (belief it or not) in the boy group "HNO", breakin young girls hearts all over, but then found out pretty quick that this is not his thing to do on this planet earth so 2003 he bought himself a Kickdrum a Guitar and a Korg Syntesizer and started traveling around as a Electro Punk One Man Band, the complete oposite of the Boy Groupe image he had, it's a Twisted Situation and so is the man himself.
and so is that new Record of URBAN JUNIOR a twisted Trip into a Syntetic World of ELEKTRO CLASH GARAGE PUNK, BLUES TRASH, 80'S NEW WAVE DISCO AND RAW ELECTRO PUNK like nobody else can.
URBAN JUNIOR plays shows in the whole wide world (on tour with John Spencer Blues Explosion, Bob log III, John Schooley, Jack Oblivian, on stage with Iggy Pop, G. Love & spezial Sauce, Kitty daiys and Lewis, Thee Oh Sees, King Khan, the Pussywarmers ,Reverned Beat-Man etc) and has a growing followership, his live performances are a Pure Energy Spettacolo, a sleazy one Man ACID RITALIN FREAK SHOW.. imagin being a totaly Drunk Fucking up at a Roller Disco Party and the band hits song after song in your face .. that's what a URBAN JUNIOR show feels like. After his first Voodoo rhythm record TWOHEADED DEMON On this Record you here him in a conversation with Dr S & Mr P the 2 personalitees in the paranoid brain of Urban Junior!
the Album Includes 3 SUPER SMASH HIT SINGLES Jetzt, backdoor boogie, the end and a bunch of other Obscure Killer ELEKTRO PUNK DEATH DISCO Tracks. This record is a madhouse!!!
---
REVEREND BEAT-MAN
THE KING OF PRIMITIVE ROCK'N'ROLL  AND GOSPEL BLUES TRASH
"He'll make your back crack, your liver quiver, and your knees freeze. And if you don't dig that you've got a hole in your soul, so let's give a big warm welcome for the Rev, your Beat-Man, everybody's Blues Trash Preacher, the fabulous Reverend Beat-Man"
Born in 1967 a year before the summer of hate, makes his first recordings as a 13 year old under the name Taeb Zerfall and putting it out on his own Zerfall Tapes label.. then 1986 founded the Monsters, and in 1984 changing the name from Taeb Zerfall to Lightning Beat-Man the Wrestling one man show.. and then 1999 changed his name to REVEREND BEAT-MAN, 1992 founding the voodoo rhythm label.
Reverend Beat-Man is not only a One Man band it is A MISSION an Mission for the Blues Trash church.. with only a Guitar a Kick Drum 1 Hi Hat and a microphone Reverend Beat-Man tells you story's about Dead, the Live about killing and about the lost love and about seeing the Light ..this is kinda a new way to preach the Gospel to the people, it's all very raw and primitive with a lot of Blues Trash and Primitive Rock'n'Roll and Gospel music in it.. and HE PREACHES !!! believe me brothers and sisters he will bring you on the wrong track of live and then gets you back to the blues trash church !!!
Reverend Beat-Man use to play lots of shows so far.. such as Jazz Festival Montreux (CH) Rock oz Arenes (CH), Eurokeen (FR) Dour (B),.Las Vegas Grind (USA) Frat Shack (UK), many tours and gigs in: Switzerland, Austria, Germany, Spain, France, Italy, Slovenia, the USA ( CBGB's, Maxwells and others) Brazil (black jack and many others) , Argentina (BA Stomp and many others) , Belgium, Holland, Denmark, Japan (shelter and many many others) and the UK
Reverend Beat-Man sells his records all over the globe and has over 30 out puts with him alone and with the several bands he plays in (the Monsters, die Zorros, the Coronets, Lightning Beat-Man ) produced several Videos all extremely strange and weird, plays also with backing bands or doing performances in churches Theatres and Galleries
---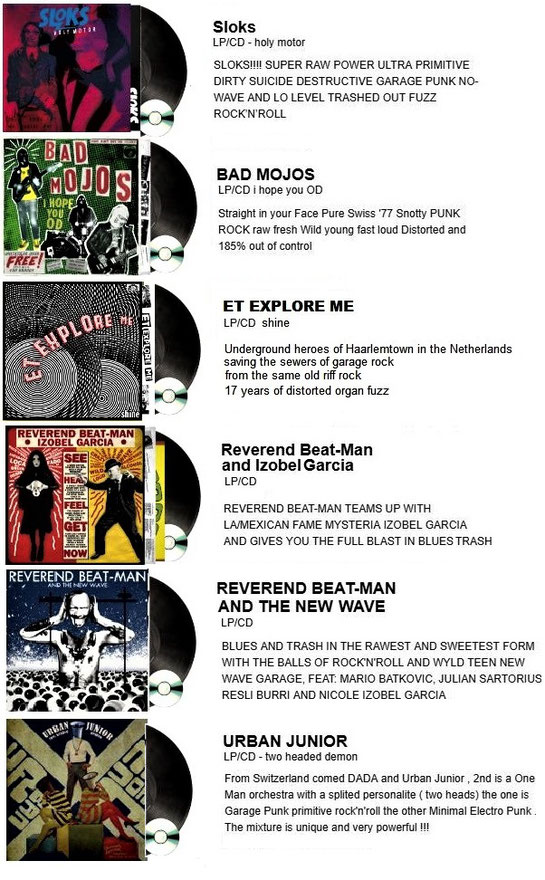 ---
Verlosung:
Wir verlosen jeweils 1 Platte (Vinyl) von folgenden Bands zur ANTIKÖRPER-Sezialsendung:
SLOKS - Holy Motor LP(+CD)
BAD MOJOS - I hope you (LP (+CD)
ET EXPLORE ME - Shine (LP (+CD)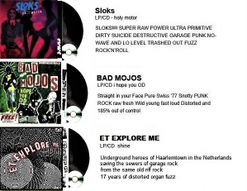 Damit du eine der Platten in deiner Sammlung aufnehmen kannst, schicke uns bitte unter das Kennwort "Vooodoo" im Betreff eine Mail an:
info@underdog-fanzine.de und erkläre, warum ausgerechnet du die Platte haben möchtest. Da jeweils nur 1 (in Worten: eine) Platte der 3 Bands verlost wird, ist Eile geboten. Des Weiteren gilt: Nicht die schnellste Einsendung ist entscheidend, sondern die beste Erklärung!
Die Gewinner*innen werden bis zum WE benachrichtigt!
Mark Kowarsch, gebürtig aus Detmold, spielte schon in den ostwestfälischen Bands Speed Niggs, Sharon Stoned, Tagesschau, Kommando Schwarzer Freitag und Elektrosushi. Seit 2009 veröffentlicht er Musik unter dem Namen Tortuga Bar.
In seiner "Köln-Phase" (2000-2008) arbeitete er als Journalist für Visions, Intro und diverse Fanzines, gründete mit Klaus Cornfield und Rocco Clein (Viva2) das "Likely to be dropped DJ Team" und war Resident-DJ im Kölner Gebäude 9 und im Stereo Wonderland.
Mark veranstaltet das "Kings of Lo-Fi Festival" und hat eine monatliche Kolumne "Der Tonspion Stammtisch" beim Online-Musikmagazin Tonspion.

Mark: Lange bevor ich mit Musik anfing, war Radio das wichtigste in meinem Leben. In Ostwestfalen aufzuwachsen bedeutete damals: "Kauf dir ein gutes teures Radio", denn wir wohnten im "Teufel's Arsch", wie Ostwestfalen unsere Gegend nannten! So fing ich schon ganz früh an, die "Hitparade" mit Mal Sondock zu hören. Ich saß vor dem Radio und habe alles mit einem kleinen Kassettenrekorder mitgeschnitten, später daraus Mixtapes gebastelt. In Detmold bekam ich zwar nur drei Fernsehsender rein, dafür aber, durch das britischen Militär die bei uns stationiert waren, den Radiosender BBC, und lernte so John Peels Musik kennen und lieben. Ich kaufte fast jede Woche ein 10er-Paket Kassetten und hatte jeden Abend feste Termine vor dem Radio.
Das änderte sich erst, als ich selbst anfing Musik zu machen und in Bands zu spielen.
"Everything I Had To Know I Heard It On My Radio!!"

Kontakt: antikorper@byte.fm
---