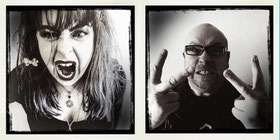 A dynamic partnership between Dark Mother vocalist, Holly Johnson, and Mistress, Kroh and Fukpig song writer / producer, Paul Kenney, was forged during February 2019 at Paul's recording studio in Birmingham (UK).
Mixing grunge, stoner and riot grrl influences with aggro-fuzz and tight song structures, Obiisss spit out a hybrid style that fuses together multiple genres, comparable with counterpart bands such as Fu Manchu, Breeders, L7 and Jack off Jill.
This three track EP titled "Female fronted is not a genre" came together over a 5-hour session at Devizes Studio in Birmingham. Featuring the tracks "Bro (not feeling you)", "Vague" and "Paranoia", All showing the direction of this new exciting pairing of minds.
Obiisss are currently working on a full album and are booking shows through 2019 and 2020.