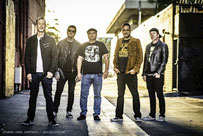 If you listened to Songs of Armor and Devotion with no prior knowledge of Strung Out, you probably wouldn't guess that the California band has been together for almost 30 years – such is the intensity and fresh energy of these 13 songs.
Produced by Cameron Webb, who was behind the helm of 2009's Agents of the Underground, it's a record that brims with the same ferocious fire the band had at the very start of its career when frontman Jason Cruz was still a teenager, but which also demonstrates how far the California five-piece have evolved as songwriters, musicians and people.
"I don't want to be 19 years old again," says Cruz, "but the fact that we still have that energy, but we're not 19 years old is a real feather in our cap. We're older, but I'm so grateful that I still have a lot to do. I hope people hear this record, and they know that we're not tired, that I still have ideas.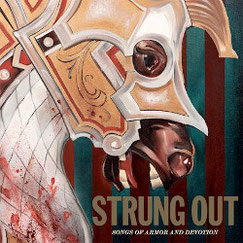 Those ideas flow throughout this record both musically and thematically, the vulnerability and uncertainty of Cruz's lyrics lying in stark contrast to the fierce and ferocious pummeling nature of its songs. That juxtaposition has always been present in Strung Out's songs, but for this record, that push-and-pull has become the central basis and focus of this record, as his heart and thoughts struggle to make sense of the chaos of the world at large. That's not to say sensitive and vulnerable, that your heart is going to be displayed on that armor anyway. There are so many thoughts and feelings in my head I think that with this album I just opened up the pen and let it go to explore the duality of having to defend and protect what's inside, and at the same time make it available for the world."

Much of Cruz's vulnerability stems from the death of someone he was incredibly close to. That's something which has exaggerated and exacerbated Cruz's emotional fragility and continues the spiritual and philosophical journey he says he's found himself on in recent years. At the same time, though, these songs are also infused with a spirit of hope and defiance.

"I lost my best friend six or seven months ago," explains Cruz. "It was right before we started writing this record, and that really put a shadow on things. Some of these songs – especially "Monuments" and "Bloody Knuckles" – reflect that loss. But that's what's always made our band work. The music is this metal machine and then you get these vocals that express this vulnerability in a melodic way – and there's love and there's searching in all that machine. This record starts out hopeful and then it kind of degrades. It sobers and ends with loss. But there are so many things on this record that I'm still figuring it out."

All those thoughts and feelings swirl together on this record as Cruz – who refers to himself and his vulnerability as the "flesh in the machine" – tries to find some sort of resolution. The moody "Daggers" tells a story of personal turmoil within the backdrop of an increasingly dystopian America, while the grief and sadness contained with "Monuments" is offset by the pulsating, defiant frenzy of the song's tune. "Disappearing City" blends a raucous energy with a sense of resignation but – importantly – not defeat, "Under The Western Sky" brims with Strung Out's trademark sense of melody and coruscating aggression, and the insistent ebb and flow of album closer "Bloody Knuckles" is ravaged with both a despair and a kind of beauty at the same time.

Yet while these songs are fueled by a power and aggression, the band – completed by guitarists Jake Kiley and Rob Ramos, bassist Chris Aiken and new drummer (since 2018) RJ Shankle – infused them with plenty of nuance, too. Some of that is thanks to the lessons learned from last year's acoustic yet expansive acoustic EP Black Out The Sky, something Cruz says was a necessary step the band had to take in order to then make this record. Underneath it all, however, is the same desperate need to write these songs and get them out of his system.

"This opportunity I've been given, and everything I've been doing, I don't have any say in it," Cruz says. "I don't have a choice. I have to fucking do this. I have things inside of me that swell up when I go through this, but it's what people put into what they hear and what they then take out of it that's the magic. I need to do this, but if it's not making a connection, I have no right to be here. My favorite part about America is the pain of the poor people and what they create out of it – the culture that the poorest people of this country have created. From that came blues, jazz, rock'n'roll, and, to me, coming from nothing and creating something is everything to me."

You can hear how that is – how true that still is – from the beginning to the end of Songs of Armor and Devotion. It's a punk record, but it's also much more than that. It's a political record that addresses the state we're in, but at its core is a heart and humanity –and a belief in that humanity – that overrides everything else. It's pain and sadness and hope and rebellion all wrapped into one powerful statement that also serves as a culmination of the band's three decades together. And while the record sees Strung Out still writing at the height of their abilities, at the same time, when Cruz reflects back on these songs, he thinks they represent something monumental for the band, even if he's not entirely sure what that actually is.

"I find that it's time for a new adventure," he says. "I feel like I've given what I needed to give to Strung Out. I feel like we did what we needed to do and it's time to move on. I've grown. I'm not angry like I used to be – I feel like this was the end of something, and now it's time for a new life. I look back on the record and I think 'Done.' For me personally, it's a new beginning. We still have a lot left and as long as we listen to each other and we care about what each other has to say, I don't see an end for Strung Out. I just don't want to repeat things that I've done. I can't write like that anymore."