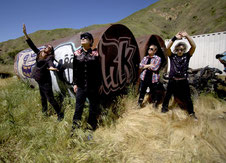 REDD KROSS werden am 23. August ihr neues Album "Beyond The Door" via Merge Records veröffentlichen!
Zum ersten Mal waren auch die long-time Live Bandmitglieder Jason Shapiro (Git.) und Drummer Dale Crover an der Studio-Aufnahme beteiligt. Als Gäste mit an Bord: Anna Waronker, Geré Fennelly, Buzz Osborne und Josh Klinghoffer.
Bereits am Montag haben die Kalifornier mit "When Do I Get To Sing 'My Way'" die neue Single von ihrem Album "Beyond The Door" veröffentlicht. Es ist die Folge-Single vom bereits zuvor ausgekoppelten Titeltrack "Beyond The Door".
Auf "When Do I Get To Sing 'My Way'" interpretieren REDD KROSS die geliebte SPARKS Single mit einer frischen Brise von Hooks und mitsummbaren Melodien neu. Über den Cover-Song sagt Ron Mael von den SPARKS: "Redd Kross waren schon immer eine meiner Lieblingsbands und diese Meinung wurde gefestigt, als ich ihre erstaunliche Version von unserem Song "When Do I Get To Sing 'My Way''" hörte. Eine Version dieses Songs mit einer völlig anderen musikalischen Herangehensweise als das Original zu machen und dabei gleichzeitig jedes Gramm des ursprünglichen Gefühls zu bewahren, ist eine erstaunliche Leistung. Ich liebe es!"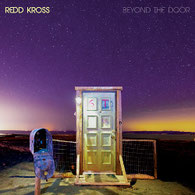 "Beyond The Door" is an album inspired by the band's "total commitment to having the best f*cking time we can have while we're all still here" (what they like to call "the Party"). It's a rock and roll record and a celebration of everything brothers Jeff and Steven McDonald love, from cultures both high and low. Musically, it's guitars, bass, and drums topped with a generous portion of sweet vocal melodies often delivered with an ambiguous edge.
 
"Beyond The Door" marks REDD KROSS' most collaborative record to date. Steven describes this evolution: "Jeff is still very much the driving force behind the compositions, but with more help from me than ever. Jeff and I haven't shared this much of the writing and singing since "Born Innocent" in 1981." Guitarist Jason Shapiro and drummer Dale Crover (MELVINS, OFF!) are longtime members of the REDD KROSS live band, but this album marks the pair's recorded debut with the group. Mixed in Los Angeles by Steven McDonald, "Beyond The Door" includes notable guest appearances from Anna Waronker (THAT DOG), Geré Fennelly, Buzz Osborne (MELVINS), and Josh Klinghoffer.
 
On the surface, the album title is a playful reference to an Italian horror film the McDonald brothers watched as children, a loose rip-off of both The Exorcist and Rosemary's Baby that stars Juliet Mills of '70s television program Nanny and the Professor. But like all things REDD KROSS, it would be a sad injustice to stop digging there. No one knows what lies "Beyond The Door"… but we're all in front of it.
 
Inspirations as varied as K-pop, glitter gangs, embarrassed tweens, long-term relationships, a mysterious character named Fantástico Roberto, and much more all contributed to "Beyond The Door", an album that lures the listener into REDD KROSS' secret club full of riddles and inside jokes, with the ultimate reward of the perfect pop moment!