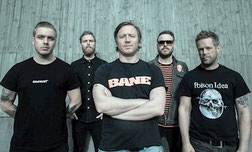 Oslo based Exploding Head Syndrome will September 13th follow up on the critically acclaimed album 'World Crashes Down' with brand new EP 'Aristocratical Tendencies';
five vigorous songs which in that true punk spirit it is done in 15 minutes. The band adheres to the recipe they followed on World Crashes Down; a good mix of punk rock and hardcore, but also adds more melodic themes and an even harder hitting nerve.
Exploding Head Syndrome is looking at a decade of touring and releasing albums, and has established themselves as an energetic and solid live act over the years with fans all over Europe. They just came home from a mini-tour covering Norway, Sweden, Austria, Slovenia, Czech Republic and Hungary with highlight being Europe's Number One punk festival Punk Rock Holiday in Slovenia, sharing stage with with NOFX, Pennywise, Frank Turner, Propagandhi, Descendents, Anti-Lam Front and many more. The band has previously done a great number of shows and festivals, like one of Europe's biggest festivals, the Exit Festival in Serbia in 2018. They have also done support gigs for acclaimed artists like Satyricon, Sham69, Honningbarna, The Good Bad and The Zugly and Blood Command.