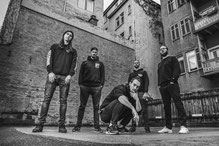 MINUS YOUTH from Stuttgart, Germany blast out with groove, harshness and a shitload of flow. The only thing, that's more energetic than the passion they want you to feel is the intense live performance.
As 2016 died the group formed. MINUS YOUTH is a union of past projects like Lion City, No End In Sight, Pessimistic Lines and Nametaker. They belong on the stage and already shared it with acts like Modern Life Is War, Cro-Mags, Incendiary, Broken Teeth, Blacklisted, Deez Nuts, Higher Power and more importantly: with a lot of befriended local bands that keep the underground-spirit alive. Their first demo, the "Teenage Duty" was released early 2017. On a 7-inch split vinyl from late 2017 they collided with BLOOD SHOT DOWN from Berlin to keep you movin' and groovin'. Their debut-album "NO GENERATION" will hit the streets on the 11th of October 2019.
 NO GENERATION is a riot. It's not giving a fuck about any rules or standards. Not being part of the generation that others falsely assign you to. Breaking the pointing finger of this scene and society. A reminder for what you stand for and what shaped your personality in the first place.
 Why? Because MINUS YOUTH are punks, metalheads and Hardcore kids. Multicultural and not belonging to a scene. That's exactly what NO GENERATION sounds like. It doesn't live by modern day hardcore rules and that's what makes it great. With grooves, pissed-off melodies, high-contrast moshparts and a lot of energy. The record also features Stu-York-Hardcore-Legend Jogges Empowerment and Grundik 210, the vocalist of the Moscow antifa band 210.