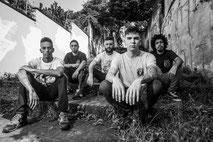 Brazilian melodic hardcore band PENSE have teamed up with MUD CAKE RECORDS to re-release their 2018 album "Realidade, Vida E Fé" for the first time on vinyl. The reissue is due to be released on September 20th.
Bio:
Formed in 2007 in Belo Horizonte, PENSE released their first studio album "Espelho da alma" in 2011. The album was very well received within the scene as it already showed a mature sound quality and well thought-out lyrical content.
In 2014, PENSE released their second album "Além Daquilo Que Te Cega" which made it on several album of the year lists. In order to support the album, the band went on an extensive tour through Brazil - putting 50 shows in 10 months under their belt. The last show of the tour even made it on a live DVD called "Viva Como Se Houvesse Um Final". Recorded in São Paulo in May 2015 at the Inferno Club, tickets were sold out in just 3 weeks!
PENSE eventually released a video clip for the song "Revitalizar" which achieved more than 150.000 views within the first 24 hours, showing the deep bond between the band and its audience. More video clips would follow and PENSE headed for another extensive tour through Brazil that year, including some of the biggest festivals in the country. In 2018, the band's third studio album "Realidade, Vida e Fé" saw the light of day and reinforced their ideas of addressing internal issues and believing that change must first be internal before it can become external. Adding speed, melody and lyrics that have relevance, you're guaranteed to have a hard time standing still on a PENSE show! Everyone who had the chance to catch them on their first European Tour this summer can confirm that!