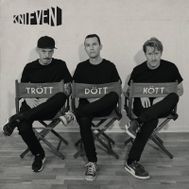 Knifven has released two albums and a handfull of EP´s. Now they are back with their mini album Trött, Dött, Kött. The band has an incredible feeling for melodies and mixes it with their canorous native language, making everything hyper melodic.
The new minialbum is produced by Tommy Tift fromTrue Moon and Vånna Inget. The sound is darker than before, and is leaning more towards post-punk or dark wave, but Knifvens punk attitude still remains intact.
Knifven consists of Anders Carlborg (guitar, vocals), Joakim Andersson (bass, vocals) and Adrian Hörnquist (drums). The band was formed in 2010 and is currently based in Stockholm and Malmö. Since the band was formed, Knifven has released four singles, a debut album "Skuggfigurer" (2015) and its sequel "Brinner" (2017).  Knifven has played over 70 gigs at clubs, venues and festivals in southern and central Sweden. The trio has also played in Denmark and toured Germany four times.