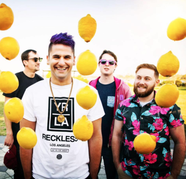 "This song was written about dealing with mixed emotions of chasing someone you thought was the love of your life and losing grip with society's version of a relationship today. This video is meant to symbolize materialistic needs as well as the rabbit hole the mind goes through when trying to process emotions."- Mark Faroudi (vocals/bass)
408 was born to accomplish one mission: create. In 2017, the band was formed in Orlando, FL by bassist and singer Mark Faroudi to bring the pop-punk sound reminiscent of the late 90s and early 2000s back with a new twist. Mark went into the studio with his good friend, guitarist Jon Jordan and recorded the band's first EP, 'Mrs. Lemonsqueezer.' Mark and Jon then teamed up with their good friends Jake Cerritani and Matthew Brock to finalize the lineup.

408 immediately took to creating music videos and playing with national touring acts in the Orlando and greater Florida area. In 2017, 408 released 4 music videos and 2 EPs. The second EP, "Oops" came out in the fall of 2017 which included the band's viral hit, "Wasted."
In 2018, 408 released the "What are You Chewing" EP which was recorded with James Paul Wisner and Jason Aaron Adams. 408 was able to have multiple Youtube music videos crack well over 20k views in a short amount of time. They have also topped the SoundCloud charts and have had multiple #1 trending songs on the platform. Since 2017, 408 has released 6 music videos and played over 60 shows with national touring acts such as The Spill Canvas, Belmont, Anarbor, Abandon by Bears, We Were Sharks and many more.

408's "Wasted" caught the attention of producer Andrew Wade which led to him producing and mastering their 4th EP in February 2019. The EP will be released soon.

408 is set on taking the world by storm with plans to release more singles and their upcoming EP. The band has a current 3,818 monthly listeners on Spotify which has shot up 2,000% in the last month due to the band gaining steam organically at a rapid pace. 408's work ethic and its love for creating anthemic pop-punk, will propel the band to new great heights in 2019.