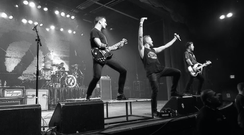 Long-running Mesa, AZ-based melodic punk/rock/reggae act Authority Zero will ring in their 25 year anniversary as a band, with the release of 'Live At The Rebel Lounge,' a 24-track double LP consisting of the band's greatest hits and fan favorites, recorded live last July in front of a rapturous hometown crowd over 2 sold-out nights at Phoenix's The Rebel Lounge.
Accompanying the live album is 'Authority Zero: Twenty Five Years In The Pit' a limited-run 136-page hardbound retrospective photo book, featuring over 250 images, which documents the band's history over the last quarter-century.
'Live At The Rebel Lounge' and photo book pre-orders are available exclusively via Zia Records.
Prior to launching their anniversary shows, AZ will be out supporting Less Than Jake and Bowling For Soup on The Good Vibes and High Fives Tour which runs October 1-11. They then join Pennywise and The Bronx on tour Nov 13-22. Interspersed among those dates are some one-off solo shows.
Frontman Jason Devore says, "It's been twenty-five long and amazing years. Years filled with music, friendships both old and new, memories, chaos, passion, happiness, and pain. This album is a landmark in all of our history books and a celebration to all who have endured this journey along the way. Let the music play on long after we're gone. Thank you all."
Since '94 Authority Zero has brought their unique blend of anthemic melodic-punk, ska, and reggae tone to the masses. A lot has changed in their 25 years since the band's inception but they have always found a way to persist and thrive in today's ever-changing music landscape.
Authority Zero was formed in Mesa, Arizona by a group of high school friends with ample ambition but no lofty expectations of what the project could become.
With the release of their 2002 debut album, 'A Passage In Time' (Lava Records), the band's career gained momentum and they soon found themselves on the road, touring extensively with acts such as Pennywise, Sum 41, Flogging Molly, H20, and many more.

Through the years, Authority Zero has gained international acclaim, spending time on the European festival circuit as well as stints in Australia, Russia, Japan. They have released a total of seven full-length studio albums, many holding spots on the Billboard Charts and their music has been featured in numerous video games, TV shows, and movie soundtracks. The band's many successes have been accompanied by a few bumps in the road including line-up changes, music industry letdowns, as well as having their van, trailer, and equipment stolen while on tour in Texas. The secret to their longevity is simple-- keep it pure and believe in your music.

Now, 25 years since the band's inception, the future remains as bright as ever for Authority Zero. The band's most recent album, 'Persona Non Grata' (released December 2018), was recorded at legendary Fort Collins studio The Blasting Room (Rise Against, Descendents, NOFX) with producer and iconic punk drummer, Bill Stevenson (Black Flag/Descendents/ALL) and led to some of the best reviews of the band's lengthy career.