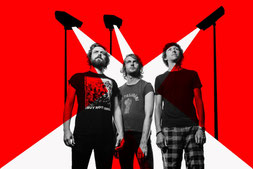 AUSTERITY will release their debut album 'Anarcho Punk Dance Party' on Friday 1st November 2019 with a digital release through Every Man His Own Football Records and a physical release via Quiet Backwater Records.
A riotous and damning statement of intent, the Brighton based anarcho-punk trio are poised to unveil their debut full-length release and their most cohesive body of work to date. With intelligent nuanced lyrics that draw on complex and confrontational anarcha-feminist political themes, Austerity write songs that might not be for everyone - but are more than necessary in Britain, in 2019.
Gearing up for the release of 'Anarcho Punk Dance Party', the Brighton based band have shared lead single 'White Men', with AA sided single 'Nice Guy / One Man Terror Dance' scheduled for release on Friday 25th October 2019.
Commenting on the forthcoming singles, vocalist and guitarist, Tommy Vincent explained:
"Nice Guy is a song about a horrible culture among men where they excuse each other's abhorrent behaviours. Y'know, where they say someone is a nice guy even when they are being abusive. We think it stinks - and it needs to be challenged."

One Man Terror Dance is about cycles of violence. We can't bomb the Middle East for decades and not expect there to be repercussions. Whether it's Palestinian children or Parisian concert goers the blood spilled is the same, violence creates more violence. The song is about pacifism" Vincent continues.

Citing influences that range from Scritti Politti, XTC and Wire to Gang of Four, Zounds and Fugazi. Austerity display angular chops, buzzsaw guitars and brutalist vocals that switch effortlessly from quiet defiance to guttural rages throughout the album's 12 tracks.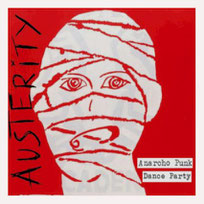 Austerity's commitment to challenging power structures and anti-consumerism extends to their electric live shows where the band regularly distribute a free zine 'The Austerity Times' a cut 'n' paste situationist zine that contains visual art, poetry and political writings.

In 2015, Austerity released their first demo, 'Humanity Will Only Be Happy The Day The Last Bureaucrat Is Hanged By The Guts Of The Last Capitalist' which was given a limited cassette tape release and sold out almost immediately.  Their debut single 'Glass House' quickly garnered support from Melita Dennett (BBC Introducing: The South) and Tom Robinson (BBC 6 Music) - featuring as one of Tom's favourite tracks in the BBC Introducing Class of 2016 playlist. This was swiftly followed by singles 'Wage Freeze' and 'The City Is Dead' both of which were also given substantial support including a BBC 6 Music radio session for Tom Robinson which was later documented to tape and released through Every Man His Own Football Records.