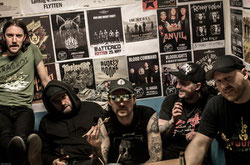 Following their critically lauded third album  "Misanthropical House" issued last year,  Norway's punk rockers The Good, The Bad And The Zugly now return with a new full-length album titled "Algorithm and Blues".
Recorded, mixed and produced by Anders Nordengen at Hadeland and Nabolaget, Oslo and mastered by Ruben Willem,  "Algorithm and Blues" is set for release on January 17th via Fysisk Format, just before singer Ivar Nikolaisen starts his new day job as the new frontman of renowned countrymates Kvelertak.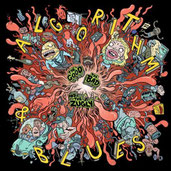 "Do you fear the devastating effects of global warming? Are you afraid robots will eventually put you out of a job? What about genetic engineering, overpopulation, bees dying or the sixth mass extinction? Or do you feel the spread of algorithmic power is stripping you of your autonomy by messing with your Netflix recommendations? STOP!!! Enough! Rid your fears, ´cause GBZ will accompany you through the Dantenian stages to hell as we all circle the drain, holding your hand through the apocalypse. If you can just stay with the trouble a little while longer."  Says the band about this new effort.