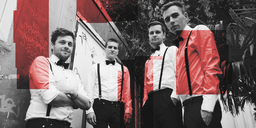 Stand Up Stacy is a punk rock / alternative rock band hailing from Munich, Germany. The guys are known for their explosive live concerts and their big, melodic sound.
The guys are lifting the typical punk rock sound of Blink-182 or Sum 41 to another level and found their way to bring the sound of the big rock bands of the 2000's to the present day, mixing great choruses and driving beats with interesting influences and harmonies.

On their new single "Something To Believe", the band comments: "It's the first single from our first full album, "The Magnificent You". It's a song about being trapped in your own head, not able to find an exit. Too often, people tend to focus on those little negative things, which sum up to a heavy burden for you and your surroundings.

This song is a wakeup call: don't let go of the positiveness that can be found everywhere around you. Step out of your shadow. Find Something To Believe."

With a host of plans in the works for next year, there's definitely nothing stopping Stand Up Stacy! The band's debut full length, "The Magnificent You", will indeed be out in spring 2020. Stay tuned!