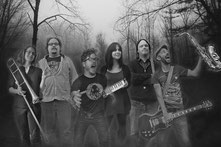 Ska-goth ("skath") collective Grave Danger are back in time for Halloween with the news of their just-released new album, 'Tomb It May Concern' out today!!
Songwriter David Schwantes says: "'Undead End Job' is Grave Danger doing what it does best. The song has bouncy horn parts, a driving groove, and the line "Had half a doughnut though I'm hungry for blood". We played more with syth leads in this song and it really added something cool, particularly where the organ and syth play off each other in the bridge. With the scope of instrumentation in the band (a four piece horn section, synths, organs, harmonies galore) we tried to focus on giving each song on this record exactly what it needed to create a big sound without muddying things up and Undead is a great example of that spooky mix coming together."
The idea of a "skath" band stems from a strange place: What would a goth ska band sound like, one combined the Misfits's aesthetic with Reel Big Fish's goofball schtick?

Berkley, CA's Grave Danger continues to answer this question on 'Tomb It May Concern', the follow-up to their 2018 debut.

In some ways, Tomb picks up where RIP left off. "Bigfoot Beach," with it's sand-shaking beat and its fanfaring horns, features the same sort of playful, punny vocals that made their first EP so amusing. Other songs, though, show a band who's expanding their spooky ska concept, including "Cemeterrarium," which flops back and forth from searing post-punk to bouncing third wave ska, and the punchy "Undead End Job," where Emily Erbach's theremin-inspired synth wavers eerily behind behind the horns.

On "Give Up the Ghost," the closest thing to a love balled Grave Danger may ever write, Schwantes's saxophone, rounded out by siblings Andrew and Margaret Miller's trumpet and trombone, are thicker and tighter than ever, filling the spaces between singer Chris Marcanti's soulful melodies and harmonies.

The band completes the EP with a cover of the Misfits's "Halloween," lightening the brooding, raging song into something singable, danceable—and laughable. It might be easy to write Grave Danger off as a novelty because, well, maybe it is. But it's also a daydream realized—or possibly a nightmare. It's what would happen is Bobby "Boris" Pickett and his Crypt Kickers were still alive and listened to the BossTones: fun and furious music intended to make listeners laugh and dance.