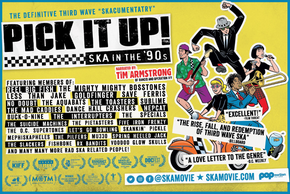 Pick It Up! is an independent documentary film about the rise in popularity of ska music in the 1990s and the subsequent return to the underground.
Narrated by Tim Armstrong of Operation Ivy and Rancid.
The feature-length documentary explores the third-wave ska explosion of the 1990's, and tells the story of 90's ska from a wide variety of points of view, including dozens of the key figures who lived it, such as members of The Mighty Mighty Bosstones, Reel Big Fish, No Doubt, and Sublime.
A "love letter" to third-wave ska, the film delves deep into how the genre of ska evolved from its original Jamaican form, through British "two-tone" in the 80s, into an entirely new global sensation in the 90's, when it became wildly popular for an all too brief moment in music history; From the early years of bands like No Doubt, Fishbone, The Toasters, Let's Go Bowling and Skankin' Pickle, to the massive radio success of The Mighty Mighty Bosstones, Reel Big Fish, and Save Ferris.