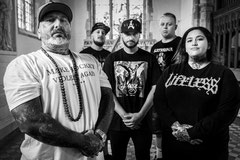 Set to release their upcoming release, "Dear God" through Upstate Records early 2020!!!

Deadman's Chest has been a prominent name in the strong European Metal and Hardcore scene since the bands inception in 2006.
Influenced by the likes of Slayer, Cro-Mags, Suicidal Tendencies and Machine Head, DEAD MANS CHEST delivered their first demo in 2008, and their debut album "Hateline" in 2010 on Seventh Dagger Records, and "Negative Mental Attitude" 12" EP on BDHW Records and CD on Seventh Dagger Records, which helped the establish themselves on the London and UKHC scenes, resulting in support slots across Europe with the likes of Cro-Mags, Sick Of It All, Agnostic Front, Madball, Biohazard, Merauder, Sworn Enemy, Ignite, Negative Approach, Cold As Life, One Life Crew, Integrity, CDC, Born From Pain, Knuckledust, Rykers, and Nasty.
The 80's had "Reign in Blood," the 90's had "Burn My Eyes" and the new millennium was graced with "Perseverance." As we enter a new decade, our ears are craving the nostalgia of these classics more than ever. Well, brace yourselves! Dead Man's Chest is back with their newest record that will deliver elements of the old school bangers you love, with a fresh twist from these young bloods - Andy (Dead Man's Chest).