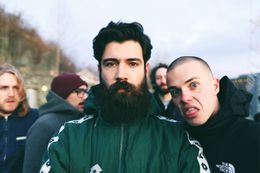 The perfect backdrop for scalding fuckboys and inserting chopsticks to the iris with a spectacular motion. COMBOS are energetic and in-your- face. As the sonic experience can be hard to label, it's vital to acknowledge the niches that each member provides to the group; prog skating, soccer punk, sneaker bawling, acid graff and black metal leadership.
The combination of these musical inspirations and their own fusion of punk energy, rock depth and a hip-hop fundament creates a new and futuristic musical expression.
Combos apparently emerged from nowhere at the end 2018 as the result of a long line of coincidences that put together guitar player and song writer Thomas Antonsen along with drummer Andreas Kjøl Berg and singer Axel Møller Olsen. During their first year of existence the trio has managed to garner a reputation of as one of the most promising up-and coming Norwegian bands thanks to their energetic, straight forward and in-your-face punk/noise rock.
Now, with the line-up expanded into a quintet with the addition of Jørgen Wassvik on bass and Terje Bjørndahl on guitar, Combos are ready to release their first album "Steelo", due out on May 8th via Loyal Blood Records.
Featuring eight songs, "Steelo" shows a young group determined to cause impact on listeners with their vigorous, dynamic and catchy blend of punk rock rage with the abrasiveness of noise rock.