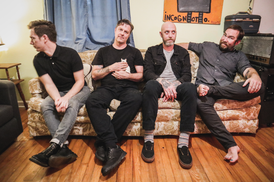 Gainesville punks have always been a rare breed, interchanging bands like lightning, becoming bands of ex-band members…but sometimes the circle becomes complete and it sticks, and it's great together. This is SUNSHINE STATE.
The band says:
"Finally, 3 or so years later...after a self-imploding record label, getting jerked around(for 2+ years) by a separate garbage fire of a record label, and lots of beers / late nights... we're releasing our 2nd album, The Mess.
Given the current circumstances in the world, we've decided to just give it away for free with the hope that maybe it will brighten someone's day, week, month, year...or however long this craziness ends up lasting.
The record will be distributed on all the major digital/streaming platforms, and you can pay what you want for it on our bandcamp....but really, just take the free songs, we want you to. Save your money for something more important. Any proceeds we happen to end up with will go directly to Warren, Troy, and Kyle's businesses in a (futile) attempt to help them keep their heads above water. Take care of yourselves out there."
Collectively, SUNSHINE STATE (which consists of ex-members of Against Me!, Whiskey & Co, J. Page, and The Scaries) have racked up countless beers, laughs, late night cannonballs, and miles on the road together, which they've translated into a strong bond of friendship, and most importantly.... a batch of really stellar songs.
These guys are doing this because it's what they do. They aren't looking to score a VW commercial, or be on the cover of anything, or subsidize a tour to escape their lives. They have families and own businesses now. That doesn't mean the music in them has stopped-- far from it. There is still punk rock flowing through their veins and things they need to get out of their heads. They are from a decade that prefers to spend what little free time they've had over the past seven years being in a band, taking years to make an album where every song is worth remembering.
---