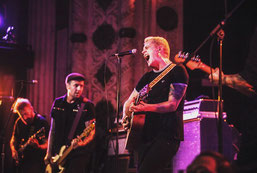 Everyone reacts differently to a crisis – some take flight, some freeze, and some say "What can we do to help?" They take a look at the current situation, you know, like a global pandemic, and look at their skill sets and assess. Bar Stool Preachers aren't nurses or doctors, but they are one of the newest bright lights in music, with drive and a social conscience to boot.
So, they did what they know how to do best, they took two of their songs that were being held for the much-anticipated new album and rewrote them to reflect their thoughts and feelings for what we are all experiencing right now. They called in favours, managed to get in the studio just a few days before the lockdown went into effect in the UK, and banged out these amazing tracks. Engineered by folk punk wonder Jake Rousham (The Levellers) and the lads themselves, they have managed to produce some of the realest and best sounding punk/rock'n'roll of the last decade, whilst being fun, current, and politically scathing.
Knowing times are shit, but people are always going to need positive, strong music, they made the songs free to download from TheBarStoolPreachers.com. (And streaming from all your normal providers.) There's a donate button for anyone with the resources to spare, for donations to the band, from which they will donate to healthcare workers and their families in the U.K (and possibly others when funds arrive, as this is an everchanging crisis). The band are doing what they can, raising money for the far underfunded NHS staff, providing their fans with anthems to see them through this incredibly difficult time, and doing what they do best – unifying our community with two amazing songs!
Keeping with their normal ways of inclusivity, BSP then set out to make the most topical video possible and nearly a thousand fans submitted videos for the first of the two singles. Editing has been done at lightning speed and we're so proud to be releasing a video for "When The World Ends" along with the track. Showing the band, friends, and fans, in their quarantined environments, singing along to TJ's topical and uplifting lyrics.
State of Emergency is the riot track for the potential time to come. Heard on megaphones and sound systems across lands, from locked down gardens... BSP are proving to everyone that they're here to stay, and they can help carry the weight of the world.