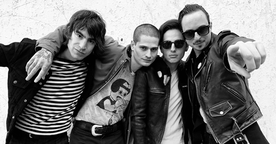 NYC punk/rock 'n' roll 4-piece WYLDLIFE has dropped a music video for "Kiss and Tell" off the band's recently released fourth album 'Year Of The Snake', available now via Steven Van Zandt's Wicked Cool Records.
The high-spirited clip, which echoes the unbridled energy of their live shows, is now streaming here:
Of the video, frontman Dave Feldman tells Inked Magazine: "The concept was made by the director, and our friend, Randy Slavin. It's been about 10 years since we've worked with him, so I guess he let all these weird f*cked up ideas marinate in his head. We shot this without any permits and were constantly looking over our shoulders for cops/cyclists/joggers who would be like, 'What the fuck?' I mean, we had toy guns but they look pretty realistic."
Recorded in late 2019 at Renegade Studios, NYC, home base of Van Zandt, 'Year Of The Snake' was produced by guitarist Sam Allen with Geoff Sanoff, the engineer known for his work with Bruce Springsteen, Fountains Of Wayne, Dashboard Confessional and others.
Stuffed with catchy riffs and choruses, charmingly specific lyrics and a palpable love of '70s punk, glam and power pop, 'Year Of The Snake' is the long-anticipated follow-up to WYLDLIFE's Wicked Cool debut, 'Out On Your Block.'