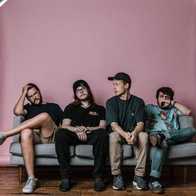 Go For Gold Just Dropped Their New EP 'Color Me' Via InVogue Records
The band says, "We used the EP to dive further into a more original sound. By taking elements from a wide spectrum of music, we were able to create 6 songs that are unique but still provide a commonality that is recognizable. This release will stand out from anything we have done and will do in the future. It introduces our eternally increasing versatility as artists and musicians."
With the 'Color Me' EP, Go For Gold is diving in headfirst with poignant lyricism and sentimental instrumentation. It's rare for a band to be this well-developed so early on in their careers, but Go For Gold have earned unwavering support with their ability to craft infectious pop-laced, yet punky, hooks.

The band's energy alone is captivating - amidst surging guitars and deliciously addictive melodies, it's almost impossible to not want to throw a fist in the air at first listen. With the release of 'Color Me,' Go For Gold continues to solidify their place as a dynamic, intensely infectious, dance-your-problems-away band on the rise.
Stream the EP here: