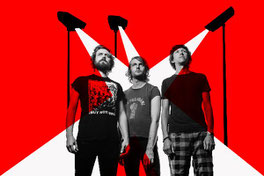 A potent and uplifting antidote to the pressure of lockdown that keeps the punches rolling following their debut album Anarcho Punk Dance Party released Friday 1st November 2019 via Every Man His Own Football + Quiet Backwater.
On the single, the band said: "During this great societal pause we call lockdown, we've been inspired by the solidarity and sense of community that has poured out of every corner of the planet. Seeing neighbours helping neighbours and communities looking out for each other has reminded us all that we are stronger together than we are alone. We wanted to celebrate that spirit of togetherness by asking our nearest and dearest to express themselves on camera, creating a montage of our collective isolation. Making it has made us feel even more connected to our surroundings and the people we love."
"This is a special moment in history, when the wheels of capitalism have slowed down enough that we've found time to take stock of our society, to question the priorities of our economy and to re-assess what we value and who we hold dear. We have a once in a lifetime opportunity to change the world...don't let this moment slip through our fingers. We may be alone, but we are alone together. Solidarity to you all. See you on the other side!"

With intelligent, nuanced lyrics that draw on complex and confrontational anarcha-feminist political themes, Austerity write songs that might not be for everyone, but are more than necessary in modern-day Britain.
Citing influences that range from Scritti Politti, XTC and Wire to Gang of Four, Zounds and Fugazi, Austerity display angular chops, buzzsaw guitars and brutalist vocals that switch effortlessly from quiet defiance to guttural rage.
Austerity's commitment to challenging power structures and anti-consumerism extends to their electric live shows where the band regularly distribute a free zine 'The Austerity Times' a cut 'n' paste situationist zine that contains visual art, poetry and political writings.
'Imperialism' is available through all good digital streaming platforms.