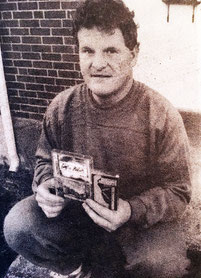 It was 30 years ago today. Well, maybe 29 but close enough for rock 'n' roll and there's that old Sgt. Pepper line we like to trot out and adapt to modern times.
Right around then, Jerry Lehane and some musician pals went in to a Boston studio on three consecutive late nights and banged out five songs, the very five you'll be hearing on this here EP.
---
---
Why are these out now?
Well, this batch was going to be part of a more extensive package with newly recorded material – a Lehane mashup of old and new  for his first eponymous effort - but then COVID-19 came around and said "Fuck you, go home and isolate" to Lehane and, really, everybody else on the planet. Life was derailed and music, being a big part of life, took a hard hit. Gigs cancelled and recording plans scuttled.
Lehane had another three songs ready to record with Ed Riemer, the former bassist in Band 19 and Wheelers & Dealers, among others. Riemer, who's also a carpenter and high-end reverb cabinet maker, met Lehane, who runs a plumbing company, on the day job. They got to talking music and recording in Riemer's home studio. "He was gonna bring in other musicians," Lehane says, "but COVID-19 came and it was kaput."
Still, Lehane had this batch of five that he and Rumbar Records' Lou Mansdorf wanted to thrust into the world … So, why not now?
"They were all done over three days in 1991," says Lehane. He was, as they say, between bands. The Dogmatics, formed in 1981, had come to an abrupt end in 1986, when bassist Paul O'Halloran was killed in a motorcycle crash. (They have since re-grouped off and on over the years and play a handful of gigs, mostly charity outings, every year.)  Post-Dogmatics, Lehane played guitar and wrote songs with the Matweeds from 1987 to 1989. His band Hotbox was in the future.
He was also building his Canton-based plumbing business. It's worth noting that most veteran rockers do not live by rock alone. If they never made it big in their youth and still love to play, chances are it's something of a sideline now. Lehane, who's 59, is a big Bruins and Red Sox fan and he picks a baseball analogy, viewing his place on the rock 'n' roll spectrum like a baseball player in Single A.

As to the 1991 recording, it happened at the Cars-owned Synchro Sound on Newbury Street, as upscale a studio as Boston boasted. Jerry had met and become friends with sound engineer Tom Hamilton - no, not Aerosmith's Tom Hamilton- who'd done some recording with the Lemonheads and worked at Synchro. So, Jerry got an afterhours deal: He and his pals would come in at midnight and for short money.
"I had these songs and handpicked musicians I was friends with around Boston," Jerry says. "They all came in and did it for nothing. I knew they were good songs, but the songs never got out. I didn't shop them around."
Among that gang: singer Charlie Chesterman (Scruffy the Cat, Harmony Rockets, the Motorbikes), bassist Chris Doucette (The Galley Slaves, Witch Doctor and Lehane's future bandmate in Hotbox), guitarists Danny Coughlin (Children of Paradise, Lazy Susan, Eric Martin & the Illyrians) and Chris Erikson (Sacred Cows), and drummers Randall Gibson IV (Scruffy the Cat, The Flies, the Illyrians), Lance Hewitt (Timmys) and Scott Seiver (Ted Leo, Tenacious D, John Legend, Pete Yorn, etc.).