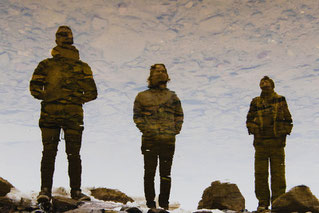 Raw, brutal and vicious black/crust/grind sounds for fans of Rotten Sound, The Secret, Wake, Hierophant & Full of Hell.
Named after a local city district, Mustasuo, which roughly translates as "black swamp" is young trio from Oulu, northern Finland formed by Antti Saarilampi (guitar/vocals), Tomi Luimula (drums) and Christopher Livingstone (bass/vocals).
---
Their music is a diverse mix of extreme punk and crust and a wide variety of metal styles, yet "blackened crust" is probably the closest definition to accurately describe their sound.

Following a debut 7-inch and a split 7-inch with death-grind band Napalm Ted, the trio now offers their raucous debut album "Katharsis", a dark and ferocious effort recorded and mixed by Keijo Niinimaa (Rotten Sound, Morbid Evils etc) and mastered by Brad Boatright (Converge, Obituary etc).