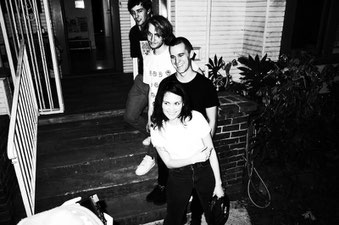 Los Angeles-based fourpiece Sprain play angular punk/noise at soaring volumes.  Their forthcoming album, As Lost Through Collision— out September 4th on The Flenser— unfurls threads of spidery 90's rock (think Unwound, Duster, Slint, etc.) and is a complex and cathartic exercise in tension and restraint. 
Written at home and refined on the road, the 5 new tracks that comprise As Lost Through Collision are parts monolithic and minimalist, manic and mellow.  Engineered by Josiah Mazzaschi at The Cave (Built to Spill, The Jesus and Mary Chain) and mixed by Tim Green at Louder Studios (The Melvins, Lungfish, Jawbreaker), the music here retains its organic purity and captures Sprain in its truest state.  The listener can hear every instrument and every tonal deviation while the band members embrace musical and philosophical abstraction in their art practice; they emphasize sound as force, differentiating the concept of pure sound from music. And although As Lost Through Collision is a departure from their previous EP, it still retains Sprain's former slowcore aesthetic. "This record was a conscious effort to move beyond the initial style we experimented with on our last EP into something more unique — something more 'us,'" they comment.
---
About:
Formed in L.A. in early 2018 by Alex Kent and April Gerloff, Sprain's initial home-recorded forays into minimalistic slowcore resulted in their self-titled EP (2018) that distinguished them from the lo-fi pack through visceral expressions of depressed life. 
Soon, guitarist Alex Simmons and drummer Max Pretzer joined, folding tumultuous noise rock, drone, and flirtations with the avant-garde into the band's arsenal. Touring converged these explorations into Sprain's current sound: pure 21st century panic strained through a wall of piercing, feedbacking guitar amps.
The tumultuous lifestyle of being a DIY musician in LA is reflected in the intentional harshness of Sprain's sound, and the new compositions were also influenced by a change in understanding and approach to music creation.  Guitarist/vocalist Alex Kent comments, "I feel like my approach to composition changed due to some new mental challenges such as extreme anxiety, and the songs definitely reflect that." 
Sprain continues to be a therapeutic vehicle, actively seeking personal catharsis that's reflected by the intensity of the music and performance.  
And while the noticeable persuasion from 90's post hardcore and noise rock is palpable, As Lost Through Collision takes cues from 20th century avant classical such as Xenakis and Penderecki. 
The end result is freewheeling and urgent, dynamic and destructive, and Sprain is marked by an aggressive versatility that has been sorely lacking in recent guitar music.