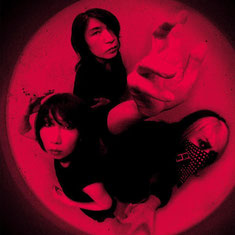 One day before Boris delivers their new album NO, the band has shared a powerful music video for equally potent song: "Anti-Gone." Since the Covid-19 pandemic has plagued the planet, arists have been relying on outlets such as Bandcamp who've generously provided 100% of album proceeds directly to the artists.
Regarding the juxtapositional new video, the artist comments: "Boris band members can't even gather in Tokyo, which was locked down.  A dancer lonely and violently dances at a venue in Tokyo— a video work that symbolizes the current situation surrounding music."
The Band comments:
"All kinds of anxieties, fear, sadness, anger, and hatred have arisen to drive the world apart.
Everyone is in a process of trial and error, doing what they can to live. The critical state of the world has placed culture, art, and other means of expressing ourselves into a dilemma as well.
We decided to start managing our band ourselves again a few years ago, so we even more keenly aware of the current situation.
It was our actions up to this point and our methodology, various cultural influences, as well the connections and support we received from people around the world that led us to create this latest album.
Culture is lore that is not bound by blood, in other words 'Non Blood Lore.' We have put all of our influences and connections into this album so that they may be passed on circulated.
That is our current stance now as Boris, our role and mode of action.
The title of this album is NO.
People have a system whereby they unconsciously grow accustomed to things and adapt to them.
But, this same system is also cursed in the way it allows inconvenient or troubling things to be disregarded as if they were never there to begin with and goes by other names such as 'resignation,' 'subordination,' and 'forgetfulness.'
We renounce this system.
'Is this something I felt on my own? Is this idea something I came up with on my own? Is this something I chose to act upon myself?'
Everything begins with questioning and denying oneself.
That is the proper stance for people to adopt."