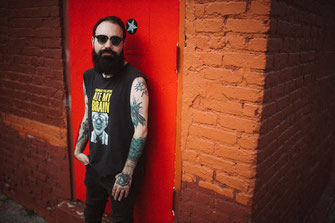 Tired Radio is the brainchild of Brooklyn based musician and self-professed crybaby, Anthony Truzzolino. Beneath the loud guitars and raspy vocals, at the very core of any Tired Radio song, you will find a tender heart mired in the grit of absolute vulnerability.
Started as a solo project in 2017, Truzzolino released two independent singles before taking a hiatus to pursue other projects. During that break Truzzolino continued to write songs that would eventually lead him to revisit the project in 2019 with the addition of drummer Kevin Daly.
Truzzolino's endearing rasp, catchy hooks, and anthemic choruses combined with Daly's driving rhythms and distinctive fills led the band to Gradwell House Recording in New Jersey to start work on a full-length debut. Engineered with the help of Ma Weber (Young Statues, A Great Big Pile Of Leaves), Patterns was born.

With a record in the works and in search for some additional members to round out the band, a chance encounter 16 years in the making serendipitously recruited a pair of long lost friends in a dark Brooklyn watering hole. Soon after, guitarist Ryan Barnes and bassist Jason St. Angelo would jump aboard to complete the band.

Patterns is scheduled for a 2020 release this summer on Engineer Records.

'Making Plans' is the first single from the new Tired Radio album 'Patterns' available on Engineer Records this summer. (14th August 2020).