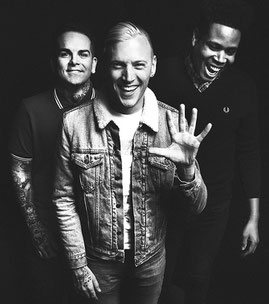 California's Sharp/Shock imbue American punk tenets with a British lilt and unapologetic nostalgia. Their name is an apt descriptor, a manifesto, and a primer for their melody-meets-malice sound as they deliver a dose of electrifying, melody-driven punk.
Cementing their status as one of the most positively powerful bands in punk today, Sharp/Shock has released a new single for their 4-song E.P. with Wisdom In Chains, out on Fast Break! Records.
Sharp/Shock is the brainchild of Davey Warsop (Beat Union, Suedehead) and Dan Smith (The Dear & Departed; world-renowned tattoo artist). Combining their mutual love for The Jam and Descendents with a no-holds-barred approach to performance, Sharp/Shock commands any stage and studio they find themselves in.
 
Sharp/Shock has teamed up with underground hardcore icons Wisdom In Chains for the ultimate hardcore / pop punk split, out today.  Each band shreds a fresh original and then cues up on their own handpicked cover. Wisdom In Chains uncovers the glory of the ultra obscure Epoxies, while Sharp/Shock celebrates a classic hit from the legendary Buzzcocks.