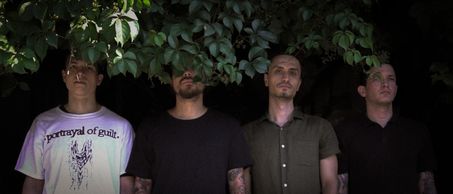 ria is an Istanbul based post-hardcore/screamo band.
After being formed in November 2018 in Istanbul, ria released their debut 'Mono No Aware' (via Mevzu Records(TR), Callous Records (UK) and Listen to Aylin Records (NO)) in the summer of 2019 and continued to tour Turkey with local/international bands (like Morild, Hexis, PFA, Seventh Genocide, Noisy Sins of the Insect...) until coronavirus made it impossible. Their sound is based on a dynamic structure with a plenty of insatiable guitar leads, emotive riffs and explosive moments, balancing between the melodic and chaotic parts. 
In addition to three new songs, the release includes two covers (Envy - Farewell to Words and Hedonistic Noise - Yanılgı, to memory of their beloved friend Orçun) and two new members. The lyrics and the sound of the EP attempts to reflect the chaotic effects of life on people's daily lives and how everything shifts between disrupting experiences. It is about facing loss and mourning, but also about holding onto things and affirming life. Named after a quote from Crime and Punishment, this EP is a 17m summary of ria's ironic attitude towards what is lived.