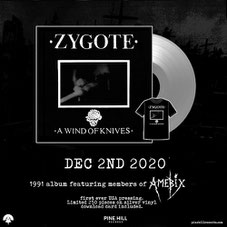 Following the 1987 breakup of Amebix, 3 of the 4 members went on to form Zygote in 1988. Featuring Chris "Stig" Miller, Robert "Spider" Richards, George "Smutpig" Fletcher, joined by Smartpils bassist Tim Crow. In the short 3-year existence of the band, they managed to produce a 1990 demo tape and a 1991 full-length, "A Wind of Knives".
Pine Hill Records is proud to announce the first ever USA release of "A Wind Of Knives" to be released on December 2nd 2020. This album has made minimal appearances since its original 1991 UK pressing. It will soon be available in North America for the first time ever.
Limited pressing of 250 pieces on silver vinyl (worldwide shipping available). Download cards included.
Pine Hill Records is also doing a t-shirt pre-order option package, featuring the artwork from "A Wind of Knives". This exclusive package will only be available with the pre-order option, which is valid through Wednesday, November 18th. After the 18th, the t-shirt option will be closed.