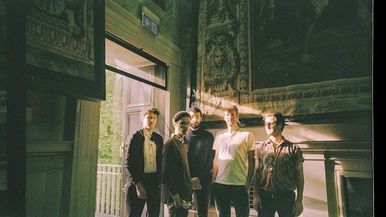 New video "P A L M I N G" from Munich based post-hardcore band Oakhands now streaming- The track comes off the band's debut full-length, The Shadow of Your Guard Receding, which has been released through This Charming Man Records earlier this year on 24th of April.
The band comments:
"P A L M I N G is the result of us trying to make something between a melancholic indie-pop & emo-pop song. We unsure as to whether it would fit the album, but ultimately we think it's a great addition to the overall tone & dynamic we were trying to achieve. We usually listen to lighter stuff than we actually play and we were trying to incorporate that in some way. That's why the song's emotion is "trust", because its structure is something well known and trusted.
Lyric-wise, the song talks about introversion, about actively withdrawing and finding solace in solidarity. But also deals with the social repercussions that come with introversion. There's an ambivalent feeling in trying to sing about NOT wanting to stand in the spotlight, bearing in mind, that the singer of the lyrics stands in the limelight and centre position of the song.
The video deals with this topic too: the actor works his way into the spotlight as he undresses himself more and more as the act of undressing functions as a metaphor for vulnerability in this video. The naked and vulnerable is whitewashed by the effects of confetti and light, and even the acting becomes overly self-confident. A paradox arises and wants to reverse it. The actor undresses, thus surrendering to the public, but appears super self-confident, almost manic, and defies the actual situation."