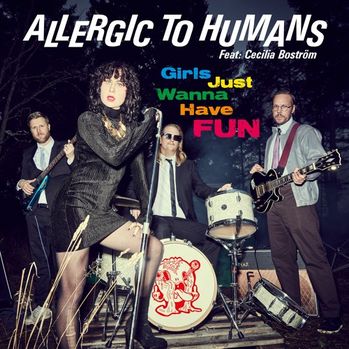 Allergic To Humans will release their new single 'Girls Just Wanna Have Fun' on February 5th.
 Allergic To Humans released their praised debut album 'Infinity Crunch' in the midst of the Covid epidemic which made it hard for them to play live as much as they had planned/wanted.
A real shame since their soulful high energy rock'n'roll with garage punk rawness is something that should definitely be enjoyed live on a sweaty stage. After doing a couple of online live sessions they decided to go back inte to the studio to record a long time favorite of theirs, Robert Hazard's 'Girls Just Wanna Have Fun'. Bringing this great song back to it's garagerock roots and enlisting their old friend, and manic whirlwind Cecilia (singer of The Baboon Show) to help them turn it into a crunch-tastic rock'n'rolla diamond needed to cope in these bleak times.