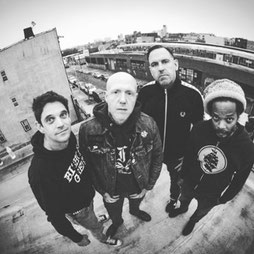 The working class street punks from Atlanta known as ANTAGONIZERS ATL have released their music video for "Hold On Hold Strong." The video features a guest appearance from Monty Neysmith of the famed British reggae band Symarip who also lent his vocals on the song.
"Hold On Hold Strong" comes from the band's new album Kings, their first full-length album in nearly 5 years, which is available now in the Pirates Press Records webstore.

"This song is about holding on and all of us coming together and letting people know they are not alone. Time has never been better to reach out and offer helping hands to those in need or those that are afraid to ask for help," says frontman Bohdan Zacharyj.

The band released their debut LP Working Class Street Punk in 2016 and have toured the world, including supporting tours featuring The Adicts and Booze & Glory amongst others.

Now, adding a sixth member by moving Billy Fields to keys and adding Wynn from Fatskins to bass, the band has really taken the time to hone in on their songwriting and created an album with strength exuding from every orifice. This record ups the ante, and shows that they only plan on conquering more challenges and goals head-on; eventually taking their incredible live show back out across the globe to share these great tunes with you!
---