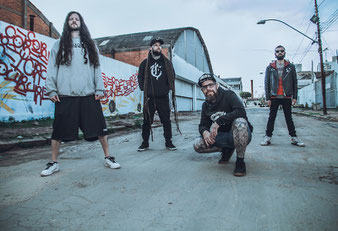 The band Diokane (crooked core), from the south of Brazil, just released it's second videoclip. It's from the song 'Descreditado', and their EP "This Is Hell We Shall Believe". The video was made with scenes of the members at home, with their pets, kids and even wearing pajamas. Who handled the edition was the bassist Eduardo Rutkowski, who is also a videomaker.
About Diokane:
Diokane — as the italian word (diocane) from where the band's name came from — it's anger shaped as music. It's a blatant reaction that arises from uncontrolled situation. It's noisy insult to curse dissafactions and also soften the wrath that consumes our carcass as scabs. It's the dog that barks to annoy your blessed life. And, last but not least, it's hideous rock'n'roll made by underdogs. It's evil sounds to make you shake!
Grouped since 2016, the quartet makes a cross-referencing of punk / hardcore and metal that disobeys traditional classifications of heavy music. It's a music breed without pedigree howled by people who enjoy Napalm Death, Ratos de Porão, Circle Jerks, Snot, Rotting Christ, Ramones, Strife, Motörhead, Converge, Sepultura, Sarcófago, The Stooges and Racionais MC's.
The band is: Duduh Rutkowski (bass), Gabriel 'Kverna' Mota (drum), Homero Pivotto Jr. (vox) e Rafael Giovanoli (guitar).