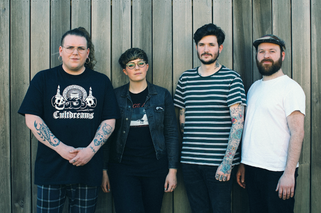 UK band Nervus are excited to share their new single, 'Between The Lines', featuring Erik Garlington (Proper.). The track appears on the collaborative album 'Sunday, Someday' out March 26th through Get Better Records.
The idea for 'Sunday, Someday' was conceived by a group of like-minded friends and musicians from the UK, Pennsylvania, and Los Angeles who began meeting virtually every Sunday from April 2020 onward after the tour they were supposed to go on together was canceled due to the pandemic.

The group is comprised of the alt/punk band Nervus (UK), the pop/rock trio Potty Mouth (LA), the indie/folk/punk songwriter KOJI (PA), the singer/songwriter Solstice Rey (PA), the multimedia artist Full on Mone't (PA), as well as crew members who would have been on the tour.

They decided to put together a record to fund top surgery and aftercare for a member of the group while raising awareness about the systemic oppression of QTPOC community members.

The group wants to acknowledge the history of organizing and social movements, and how creative communities can go about the work of community care and mutual aid. In order to manifest liberated futures, they must be imagined—and this group has provided space for their collective imagination, with this record as a result.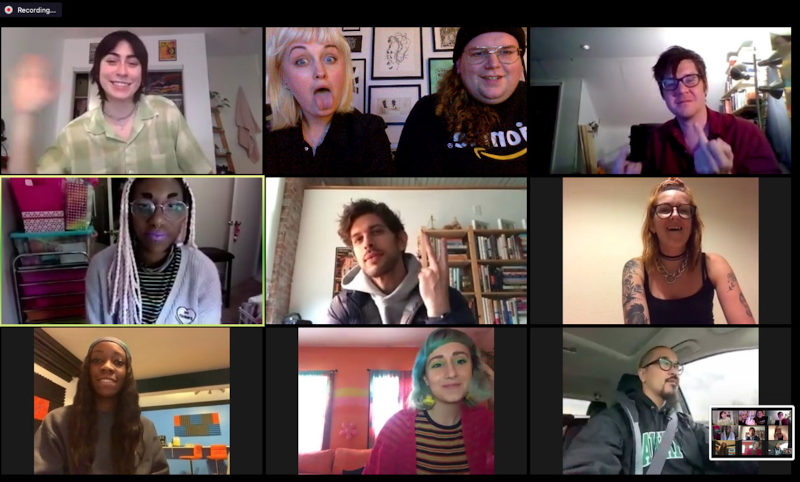 "This is not a record of and for the music industry," says KOJI. "This record is a celebration of living in community and a project that asks what world is possible when everyone's needs are met?"

"It's exciting to work on something with people I feel so connected to and understood by," says Abby Weems (Potty Mouth). "This release is an opportunity for all of us to use our collective passions, skills, and resources to support each other as artists and as people with our own personal needs."

"We're in a space where we gather on a regular basis, even though we're separated geographically," says Koji of the group. "But our relationality isn't institutional. It's loving and reciprocal. And we're able to inhabit ourselves more fully than we are in other music spaces that we've experienced."


The group recently launched the "Maybe Monday Podcast" and you can stream the first episode, featuring Solstice Rey here:
About Nervus:
Since forming in 2014, the U.K.–based group Nervus have never shied away from exploring complex issues within their unique breed of alt-punk music. Themes of identity and queerness run through their records, along with environmental, social, and political challenges.

During 2020—in the absence of live music—Nervus have been writing and
recording in isolation from one another, with mixing and mastering happening in Em Foster's home studio.

The band's latest songs examine community, anti-gentrification, and the rejection of individualism—an idea of place, time, and liminal space.

Nervus want to give a huge thanks and massive shout out to touring pal and
great friend Erik Garlington of the band Proper.—who features on Sunday Someday's "Between the Lines."