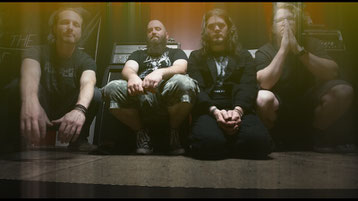 The Bloody Hell has a new full-length in the works to follow their award-nominated 2018 self-titled debut album (Loud Recording of the Year" - Nova Scotia Music Awards 2018), and as they currently work on the sophomore release, they are sharing with fans a new music video for the single "When You're Gone".
"When You're Gone" is a glimpse of what's to come from the forthcoming, yet to be titled second album. It's a dark love song that finds hope in a horrible situation, musically reflected with the grit and aggression of classic punk rock but with pop undertones of earworm melodies. The track was recorded at award-winning New Scotland Yard Studio in Dartmouth, NS during the summer of 2020.
Formed in 2017, The Bloody Hell has gotten dirtier and more polished at the same time, with the band infecting fans with their pop-cultural hooks and concepts, while the guitars keep getting louder and the vocals becoming uglier.

Suitable for a variety of fans, The Bloody Hell cites influences ranging from Misfits, Nirvana and Motorhead, anyone who enjoys a fun and dirty romp with a bull horn of grungy vocals.
About:
The Bloody Hell is what would happen If George Thorogood sang for the Misfits but all the songs were written by Tom Petty. Super catchy horror rock songs about drinking and heartache played at punk rock speed.