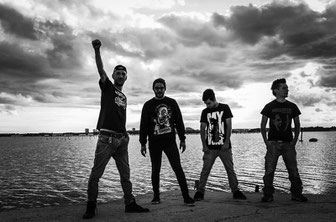 SUD DISORDER is a punk hardcore band born in 2013, in the pirate apulian countryside, not so far from Taranto, the city of steel industry. From a long history of anti-fascist aggregations, thousands of miles ground across Europe and a solid DIY mentality, comes the second album "SENZA AMOR NON VALE NULLA" ("Worth nothing without love").
Composed during the first lockdown of 2020 and recorded during the following summer, compared to the first one this album creeps into more personal themes without putting apart raging social criticism. With a well balanced mix of punk hc rage and melodies, strictly italian lyrics and a great taste of choirs and anthems SUD DISORDER tells stories, relationships and insights of broken lives, despite the need to be recomposed and yet beautiful in their implacable passion, in leaving and finding comrades, friends and complicity.
SENZA AMOR NON VALE NULLA will be available since May 10 2021 in digital stores and streaming, Digipack CD released by Dischirozzi and limited color vinyl edition released by Motorcity Prod. and distributed in Germany by DeWeRecords. Preoder starts April 25th 2021.
SUD DISORDER - POISON CITY IRON FRONT ft. Enrico Malatesta (S.F.C.)