Creator-Destructor Records is ecstatic to be giving the deluxe vinyl reissue treatment to three albums from New Bedford Massachusetts-based melodic hardcore outfit, A WILHELM SCREAM.
A WILHELM SCREAM presents reissues of three of their fan-favorite albums: Mute Print (2004), Ruiner (2005), and Career Suicide (2007). Originally released on now defunct Nitro Records, the Bay Area's Creator-Destructor Records has stepped in to reissue all three titles with four different colored vinyl variants per album. Some variants have sold out already and the rest are selling quickly.
Order here: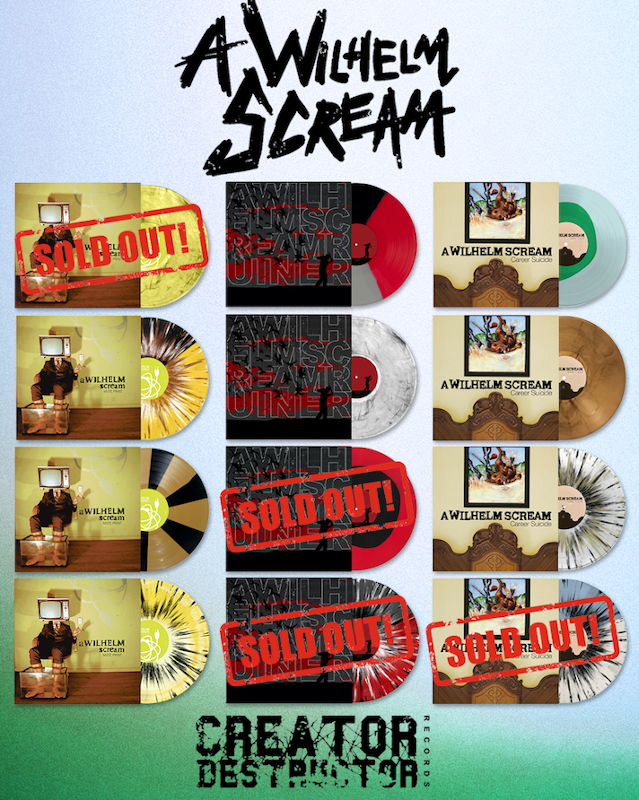 Ben Murray from Creator-Destructor Record states, "The members of A WILHELM SCREAM have been good friends of mine since around 2010 when I first toured with them on the East Coast. Since then, I've had the honor of sharing the stage with these guys many times and getting to know them as the righteous folks that they are. I couldn't imagine a more genuine group of people. To say the very least, it feels like their songs have been in my DNA since 2004. It's truly unreal to have them on the label, a weird full circle thing for me, and I couldn't be more grateful for these dudes. Tons of awesome things in the works. Stay tuned and thank you all for the support!"
Furthermore, the band is hosting a skatedeck giveaway! A Wilhelm Scream/Creator-Destructor Records are giving away three of their 'space whale' skate decks to three lucky fans who preorder any vinyl record this weekend! The contest applies to all fans who have previously preordered, as well.

A WILHELM SCREAM is widely regarded as one of the best, most impressive top-tier punk rock bands to emerge in the last twenty years. Like their counterparts in Propagandhi and Strung Out, the band has a knack for upping the tempos, increasing the levels of riffage and metal-inspired technicality, and consistently blow people's minds with their unique brand of complex song structures and intensely personal lyrics that have had fans screaming their lungs out at lives shows across the world for nearly two decades now. A WILHELM SCREAM has spent their career touring heavily all around the world botho headlining on their own accord, as well as supporting punk giants like NOFX, Strung Out, Pennywise, Hot Water Music, The Lawrence Arms, The Descendents, and many more.

Following the three now-reissued LPs on Nitro Records, the band released an eponymous EP via Paper + Plastick in 2009, followed by their latest LP, Partycrasher, released through No Idea Records in 2013.

A WILHELM SCREAM is currently in the process of writing the follow-up LP to Partycrasher now, with more news on the record to be issued over the months ahead.
---