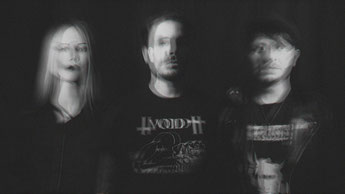 Deathsomnia is a UK and Estonia based three-piece who bring forth a sound that emanates from dystopian industrial punk soundscapes enveloped in raw emotion, industrial climactic momentum and live energy.  Their two-song debut EP, Self Sabotage, surfaces today on Isolation Records and features the eponymous track on side A and a cover of Swans' "Celebrity Lifestyle" on side B.  Now, the band has debuted a dark and dreamy music video for "Self Sabotage" in celebration of the EP's release.
The creative synergy between multi-instrumentalists Kadri Sammel (Bedless Bones), Richard Powley (Telepathy) and Bruno Russo, and their individual punk, hardcore and electronica backgrounds, are the source for Deathsomnia's music genre bending originality.  On Self Sabotage, the trio worked with New York based producer and collaborator, Ben Greenberg (Uniform. Black Marble, Bad Breeding, VR Sex) who describes the music as a "blending of subtle industrial elements into guitar driven songs as cyberpunk and a welcomed break from current popular darkwave aesthetic tropes."  The powerful Side A song "Self Sabotage" features drums by Mike C. Sharp (Uniform) and is a poignant and catchy anthem about finding beauty in the depths of negative emotion.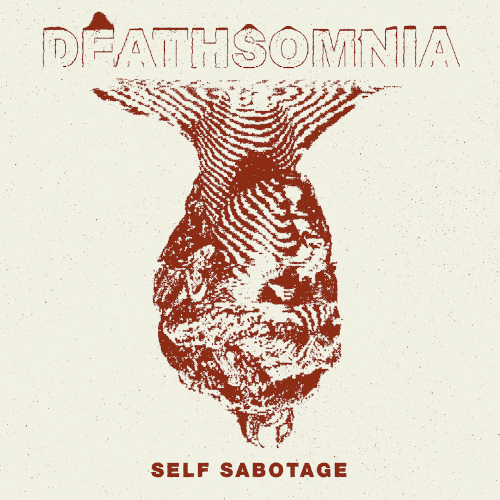 While their groovy riffs and crashing percussions draw influences from Wipers, Dead Moon, Health and Godflesh, Deathsomnia vocalist Kadri Sammel's beguiling vocal melodies are dressed with Depeche Mode and Primal Scream undertones.  She comments: "'Self Sabotage' is about beauty and awe. It's a state where all seems to be lost and you are at least an accomplice, if not the architect of it all. The lyrical themes draw from picturesque memories as well as nuclear testing in the '50s. A sight to behold. The visuals of the video take us to a scenery of post-historic dread, where to exist is to constantly be on guard; agile and alert. Roaming in the ruins of past grandiosity; rummaging through the layers of disrupted, disjointed effigies that represent the thought imaginarium of a person who has almost parted with humanity. But will never find peace."
 
Deathsomnia's Self Sabotage EP is out today via Isolation Rec. and features artwork by Dwid Hellion (Integrity), was produced by Ben Greenberg and mastered by Arthur Rizk (Power Trip, Ghostmane, Code Orange).  Look for information about Deathsomnia's debut full-length to surface in the coming year.
---
Pre-Order:
---