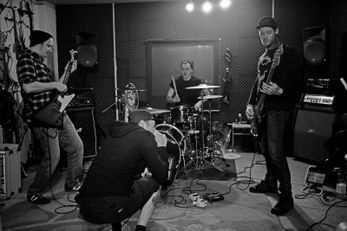 Welsh hardcore punks Grand Collapse have just announced their third full-length album, "Empty Plinths."
Cal, (vocals), shares a very personal comment on the song:
"Panic Room is cool way to kick things off as it's got a bit of everything; punk, mosh, thrash, rock... The album goes in all sorts of directions and this track mixes things up a bit.
The song describes the difficulties I've had coming to terms with a violent, abusive upbringing and losing my brother in extreme circumstances.
It's a heavy burden to bear and expressing this publically is quite nerve wracking but I think it's good to write from the heart about what affects you most."
The band, which formed in Cardiff in 2011, is well known for fusing Thrash, Punk and Metal at breakneck speed, and for their intense political message and raging live shows.
Grand Collapse lyrics and sounds are often said to be influenced by bands such as Propagandhi, Conflict and Bane;. The band stands firmly against all forms of prejudice and promotes animal & human rights. They toured the UK and Europe extensively and they are now gearing up to take this new album on tour as soon as possible.
"Empty Plinths" comes after one EP and two LPs and it's a masterpiece of killer riffs, banging drums and angry vocals spitting clever and ferocious lyrics. It's official release date is August 6th, 2021.
---