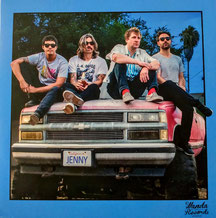 JENNY "Trajinero b/w Kids of Today" is the sophomore EP by Justin Maurer (CLOROX GIRLS, MANIAC, SUSPECT PARTS, L.A. DRUGZ) featuring a little help from his friends Jacobo Fernandez (LAS BRUSCAS, LES TRAGIQUES, DESOBEDIENTES) and Gabriel Lopez (ESPECTROPLASMA, SONIDO GALLO NEGRO) as well as his former bandmates in LA DRUGZ who play on the B-Side "Kids of Today".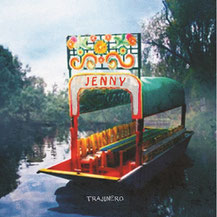 "Trajinero" is JENNY's debut Spanish language single with the B-side "Kids of Today" sung in English. "Trajinero" was conceived during Maurer's visit to Mexico City in November 2020. Maurer, Fernandez, and his girlfriend Corey were enjoying a Sunday afternoon boat ride in the swamps of Xochimilco, Mexico City, and Maurer was fascinated by the rough and tumble trajineros who expertly manned their hand-painted gondolas in the canals.

Over a bottle of ice-cold Don Julio Blanco, Maurer and Fernandez envisioned a plot where a lovelorn working-class trajinero must commit crimes to keep his upper-middle class fresa girlfriend happy. Loosely based on the plot of Emilio "El Indio" Fernández 1943 film Maria Candelaria, our protagonist commits a crime of passion and ends up in jail. He makes a plea to himself for his own happiness and survival, a passionate cry of "Ni Carcel/Ni Ella/Ni Nerds" which translates to "Not jail, not her, not nerds." (The Mexican Spanish equivalent of nerds, ñoños, is sung on the final word of the song.)

Maurer has been a student of the Spanish language for a couple of decades with stints living and working in both Spain and Mexico. Native Spanish speaker and homegrown chilango, Fernandez, helped him with the lyrics – scrawled quickly during an acoustic rehearsal on the rooftop of his Mexico City apartment a few days before entering T-Vox Studios to record.

Covid-19 was in full swing in Mexico City in November 2020 when "Trajinero" was laid down and Maurer, Fernandez, and engineer Gabriel Lopez all double masked in the studio which is attached to the Lopez family home in Aragon; near the airport where Maurer had his flight home a few hours later.  He nearly missed his flight, but a stone-cold hit was recorded. Lopez's uncle Miguel Angel was dancing around the studio throughout the session which the boys took to be a good sign. Along with engineering and mixing the single, Lopez also played lead guitar and Vox Organ.

"Kids Of Today" is a catchy banger recorded by Grammy award-winning engineer Mark Rains at Stationhouse Studios Los Angeles. The up-tempo B-side features former LA DRUGZ bandmates Cezar Mora (THE BAD MACHINE, THE WAYWARD CHAPEL), James Carman (REFLECTORS, MANIAC, IMAGES), and Johnny "JD" Reyes (REFLECTORS) handily backing Maurer up.  Both sides were mastered by Daniel "Hadji" Husayn (RED DONS) at North London Bomb Factory.
---
---
The limited first pressing of 300 is the complete package with beautiful  cover layout and design by Snake Davis.

JENNY "Trajinero b/w Kids Of Today" 300 first-pressing copies available now for pre-order. 100 on clear vinyl, 200 on black.  

Pre-Order "Trajinero b/w Kids Of Today" in North America from Dirt Cult Records: https://dirt-cult-records.myshopify.com

Pre-Order "Trajinero b/w Kids Of Today" in Europe from Wanda Records:
https://mailorder.wandarecords.de