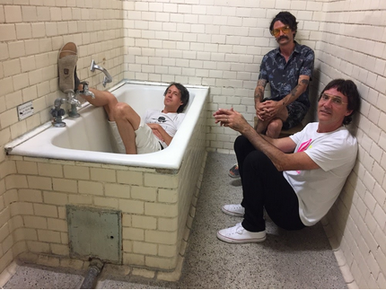 Autogramm, the synth-driven, power-pop trio from Chicago and Vancouver have premiered a new video for their latest single via Louder Than War. "I Am A Situation", created by Berlin film maker and artist Dana Tucker (Peaches/Saskia Hahn) is featured on the band's sophomore album, No Rules via Nevado Records.
The black and white video portrays a Kraftwerk-like, day in the life of actress Kim Kraczon in mid-pandemic Berlin. The video echoes the sentiment of the song's despondent lyrics. Discussing the video bassist C.C. Voltage admits, "we originally wanted to have friends from all over the globe filming parts in their respective cities, but we ended up asking people to delay their parts due to the virus. We were surprised and delighted that Kim and Dana filmed in Berlin regardless."

Regarding the message behind the lyrics, drummer The Silo explains "I wrote the lyrics to Situation a little more than a year ago, right at the beginning of the COVID pandemic lockdown. It was perhaps for the first time in a long while seeing myself at a distance. These very unusual events can force us to re-evaluate our lives in a way that life as usual tends to blind us to. I was thinking about how a person's life can appear from the outside to be so settled, ideal, in the right place, while on the inside they may be struggling, drifting, gone awry. This sort of thing tends to be exacerbated by our suddenly very isolated lives, when all we get to see from our friends and loved ones is an idyllic representation that we're fed through social media. Not everyone is comfortable sharing their fears and struggles in the public forum. So this song is just an acknowledgement of my own fucked-up-ness at that time, and also a reminder to really check in with your friends, because they may be having a hard time, despite appearances."
---
Marx, bassist CC Voltage, and Chicago-based drummer The Silo, draw on influences from The Cars, The Go Go's, Gary Numan, 20/20 and Devo. Along with calling Canada, the U.S., UK and Germany home at various points, the band also has a long-standing connection to the art, punk, and skateboarding communities world-wide.

No Rules keeps with the band's tradition of crafting singalong pop-anthems, while adding angular elements that are reminiscent of Ghost in the Machine-era Police. For the band, the album title refers less to a no-gods-no-masters set of rules as it does to a no boundaries aspiration. Instead of building walls, they want to build bridges.
---
Order New Album "No Rules"