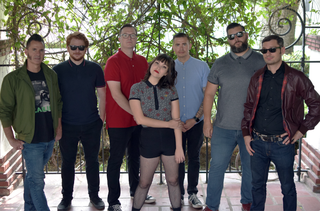 Orange County, CA ska/pop/punk faves Bite Me Bambi are back with sunny, horn-inflected take on The Go Go's classic tune "Our Lips Are Sealed."
The band says, "We wanted a fun summer song and have always wanted to do a Go Go's song. We had initially planned to do the song during covid, but it got lost in the shuffle of other tunes. Terry Hall from ska legends The Specials co wrote the song with Jane Wiedlan so we thought it would be a cool one to make into a Ska song. As it turned out, we ended up recording it pretty close to the 40 year anniversary of the release date of the original, and the induction of the Go Go's to the Rock and Roll Hall of Fame, so we thought it was Kismet. That is the yearbook answer...Okay the real answer is:...it was a awesome song to rollerskate to.."
---
About Bite Me Bambi:
Bite Me Bambi brings sounds reminiscent of British 2 Tone and 3rd wave ska into the 21st century. With energetic songs and masterful musicianship, BMB gets the crowd on their feet and dancing. Comprised of members from some of your favorite ska bands (My Superhero, Save Ferris, Starpool), this new group breathes fresh life to a genre that may have originated in Jamaica, and honed in Britain, but was perfected in the haze, blight, glamour, and beauty of Southern California.