Die Londoner Band OUT OF LOVE meldet sich mit einer brandneuen Single zurück. "Sniffin' Glue" liegt ab sofort digital via Venn Records, dem Label der GALLOWS, vor. Passend dazu präsentiert das Quintett ein ansehnliches Musikvideo, das in Eigenregie im Proberaum der Newcomer gedreht wurde.
Sänger Jack Rogers kommentiert
"'Sniffin' Glue' is about being trapped in a toxic situation—a relationship or friendship you know is bad for you through and through, but you can't help but justify it for whatever reason that may be. Once we're aware of the things that are bad for us, sometimes breaking that habit and cycle is a lot harder than you first thought!"
---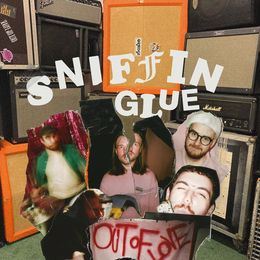 Due to COVID restrictions, the single comes accompanied with a homemade video shot by the band on iPhones in their practice room, and edited by Harry Steel.

"Our very talented and good friend Harry Steel then ran it through a bunch of cool stuff and re-filmed it through his old TV," enthuses Rogers of the concept. "It was definitely the most fun we've had creating a video in a while and a process we are wanting to explore even more going forward. We would love to work with Harry again."

The band recently played an exclusive live session on IGTV for House of Vans as part of their Next Era series.
Their debut EP I Am Not Me was released in July 2020, followed up by 2021's Funny Feeling EP—a record about growing up, growing apart, and the struggle of finding out who you are and what you want to be, charting Rogers' own war with his mind and mental health, and the way it affects his relationships both with loved ones and himself.