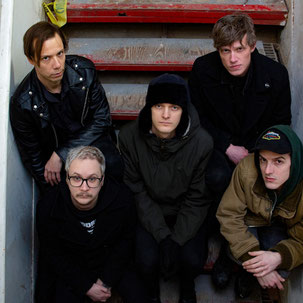 A POST-PUNK COMMENTARY ON CAPITALISM
Montreal's premier post-punk quintet Talleen have just released their latest single "Economics". The dark wave collective returns with a new video directed by Alex Ortiz (We Are Wolves) to accompany the hard hitting single. Singer Alex Petersen's lyrics tell a bleak tale of unfettered capitalism all while Mike Rodgers' grinding bass lines pound through the verses and choruses.
Discussing the theme of the single, drummer Alex Crow explains "We wanted to reflect how our society can sometimes be shrouded in mystery and symbolism, money being the driving force behind the illusion." The song will appeal to fans of post punk originators PIL, with Alex Petersen's sneering vocal stylings being reminiscent of John Lydon's classic 1970's releases.

"Economics" comes on the heels of their debut EP ("The Black Sea"), recorded by Sam Gemme at Gamma Recording Studio. Hailed by White Light // White Heat (Italy) as an album of 70s rock "riddled in urgently steady drumbeats" and "subtle depth expanding synth swathes," the LP was accompanied by videos for the singles "The Land" and "Knives." In late 2019 Talleen started working on a follow-up EP, but when COVID hit, recording plans and live shows were put on hold. With the live music industry seemingly coming back to life, the band is excited to get out on the road to support their new music and reach new fans.
---
---
Talleen has been building a following since 2017 with high-energy live shows, opening for bands like Idles, Temples, Odonis Odonis, and Viagra Boys. The performance on Talleen's new single keeps with their previous press clippings which described them as "sleazy and angular modern rock." Guitarist Alex Speechless adds "With Talleen It's always been about experimenting. Generally the music comes from a darker, sometimes unconventional place". Economics is sure to please a wide range of listeners with it's catchy and genre-bending accessibility. As guitarist Alex Brianson says "If we didn't have to end the song, I'd still be playing it. It's that pleasant"