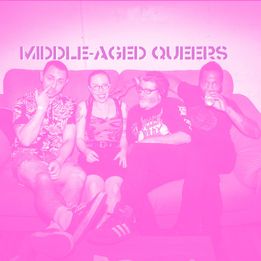 CA queercore band Middle-Aged Queers have released a new single titled "Satanic Mills." The track appears on the band's upcoming 7inch picture disc record via the band's own label Outpunx Records, and as the return release from the East Bay's notorious Wingnut Records. The song will also appear on the band's upcoming "Shout at the Hetero" album, scheduled for release on Say-10 Records in 2022.
Watch "Satanic Mills"
---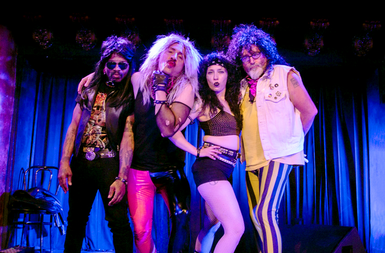 "'Satanic Mills' was written in April of 2020, inspired by the cancellation of our tours due to the COVID-19 pandemic. We were supposed to be spreading our queercore gospel to the masses instead of working day jobs in the midst of the apocalypse." Says frontqueer Shaun Osburn.
"In July 2021, Middle-Aged Queers shot an 80's style glam rock video complete with wigs, glitter, smoke machines, and fake leather pants in an attempt to manifest the success and opulence we are destined to achieve as gay rock icons."
The track appears on a limited-edition picture disc EP, with proceeds of the record benefiting Rogers & Rosewater, a direct action program providing hot meals to homeless Oaklanders.